Are you confused between CCleaner and BleachBit? Not sure which is superior and why?
If so, stick with us until we find your idol, who will meet all of your needs at once. Let's start with the most fundamental comparison! This post compares BleachBit and CCleaner.
It is unavoidable that, depending on how you use your computer, it will eventually slow down. Whatever care you take with your computer, it will eventually slow down.
Many temporary and useless files accumulate over time. The presence of numerous unnecessary files and background processes adds to the chaos.
Even if you are a power user, manually deleting these files is nearly impossible. The good news is that you can restore your PC's optimization with a number of applications. CCleaner and BleachBit are the two best cleaner apps.
This article compares CCleaner and Bleachbit. It compares their features, pricing, compatibility, and operation.
CCleaner

Check out

BleachBit

Check out
Pricing
$29.37
Free
Best for

It can clean and optimize your computer's performance, as well as protect your privacy so that your computer runs faster and smoother.

BleachBit offers tons of features to clean your computer. User interface is simple and easy to use, which makes it very easy to use.

Features

It provides purge temp files
Clutter reduction is it's main feature
It offers application uninstall
It has registry cleanup

It offers simple operation
It has multi-platform feature
It is free of charge and no money trail
It provides command line interface

Pros

It is a fairly capable and efficient free version
Additional advanced features are included
Update software and drivers
Multi-browser compatibility to improve performance
Protect your privacy and monitor threats

It's easy to use
This version is portable
This is ideal for permanently erasing private files
The ability to shred files very effectively
It's completely free and based on open-source

Cons

A bundle of tools must be disabled manually

Privacy protection is weak
Doesn't have a startup optimization feature
Monitors threats but does not include it
Built-in features are limited

Ease of Use

Using such a great navigation experience, you won't have to spend much time learning and will be able to scan your computer, get advice, and take action to ensure your computer runs smoothly.

There's nothing particularly fancy about BleachBit's interface, but it's very easy to use, so it's very user-friendly. Using a single click, you can delete recommended files.

Value For Money

It offers all the features you need to improve your computer's speed, as well as privacy-protecting features. You will be able to clear your history automatically, use junk guard, receive automatic updates, and get priority support with CCleaner Professional. CCleaner Business Edition includes more business-oriented features such as anti-theft protection, and a free trial is available.

BleachBit is a free cleaning tool based on open-source code. There are no trials, price lists, or hidden charges but its Privacy protection is weak and the Built-in features are limited.

Customer Support

It has email, call and help book facilities available 24*7 for the users. They are always available in the respective social media handles to help the customers.

There are not available on weekends. They provide customer support through templates and emails. They are not so quick as well.

Check out
Check out
Bleachbit vs CCleaner 2023: Overview
We've covered everything you need to know about BleachBit vs CCleaner in this post to help you make an informed decision.
What Is BleachBit?
BleachBit does not always come with as many features as other free software.
Although BleachBit has a broad range of features for cleaning your computer, most of the files deleted while cleaning your computer cannot be recovered.
The user interface is simple and straightforward, making it very simple to use.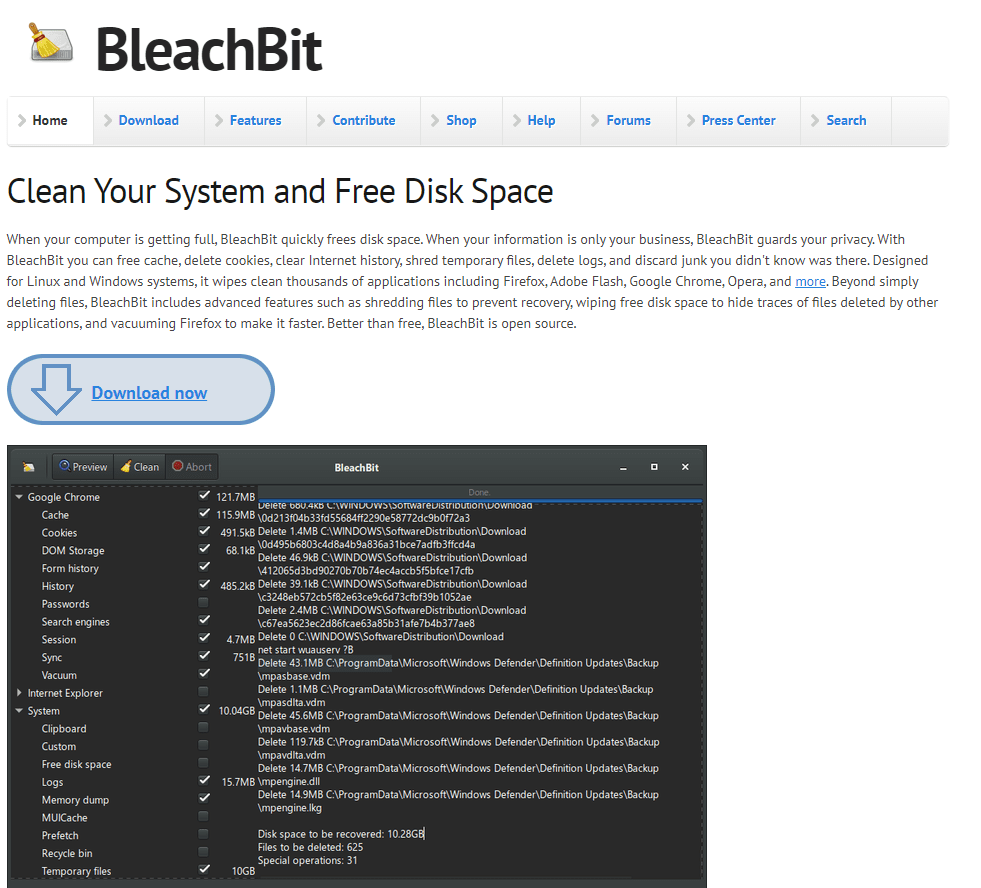 Unlike other apps, you will not be forced to use bundled apps or extensions on your search bar. BleachBit is available in 64 languages.
It does not require any technical knowledge to use because it is so simple to use.
What Is CCleaner?
If we're looking for maintenance tools, CCleaner or crap cleaner is a great choice.

It can clean and optimize your computer's performance, as well as protect your privacy so that your computer runs faster and smoother.
Quick Links:
Conclusion: BleachBit vs CCleaner 2023
What does it all come down to, in the end? Which is the best option? That is highly dependent on your requirements and price sensitivity.
BleachBit is a free download that performs similar functions to CCleaner's free version.
I really liked the shredding features, and I also liked how it could write over a hard drive to hide the fact that it had been shredded in the first place.
CCleaner, on the other hand, is the best cleanup and optimization software available here. Customer support and a plethora of other features are uncommon in open-source applications.
As a result, keep in mind that the Professional Plus version will cost you around $40. However, one feature, in my opinion, makes it all worthwhile: the file recovery utility.
In my opinion, CCleaner is the better overall option. If you only want to use free software, I recommend you try BleachBit for free.