Here we are going to see the Best Drone Cameras Review 2023 – Top-Rated and their Pros & Cons.
Drones with cameras went from being a casual summer hit to a mainstream tech gadget.
With their uses in different industries, such as video production, search and rescue, agriculture, and more, simply the desire to explore the world from completely new and breath-taking angles along with experiencing what it's like to fly, and capture memories, is a perfectly good reason for wanting a camera drone.
Letting you capture some amazing footage in high-resolution 4K video, they are more affordable than ever and with quality beginner models now costing less than $60. Good camera drones start at a few hundred dollars.
Now before you go buying one, there are some factors like ease of use, flight time, durability, and features you should keep in mind.
You do not want a drone that will break easily, you need something resistant to most common crashes, something made from carbon fiber, or if your budget is low a good ABS plastic, not the weak one.
Below average flight time might become annoying, so keeping a few batteries on hand shouldn't be an issue unless you can wait for your drone to recharge and take on the sky again.
We've tested dozens of drones, evaluating them based on design, ease of use, camera quality, durability, and flight time, to bring you our list of top five picks.
List of Best Drone Cameras | 2023 Reviews
1) YUNEEC TYPHOON H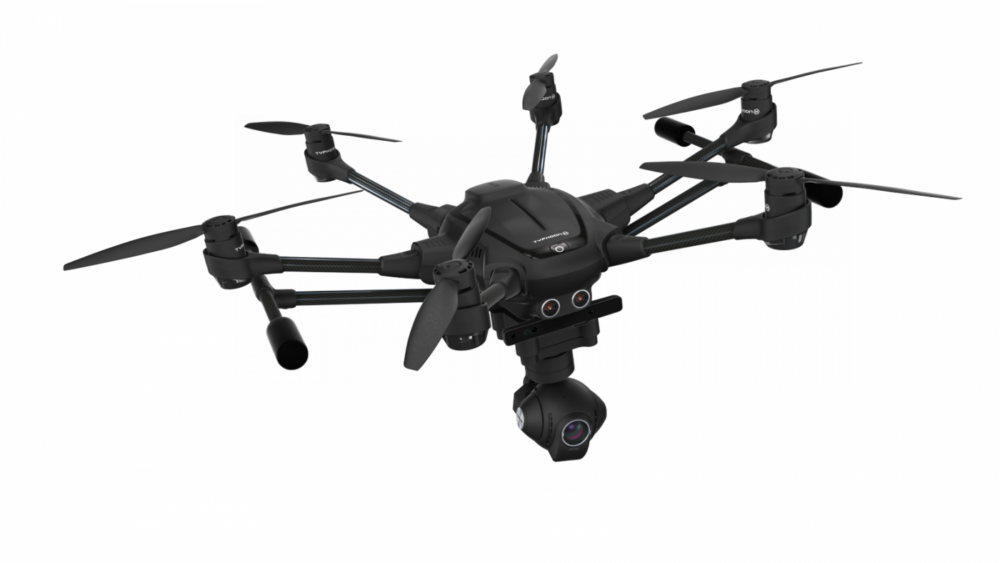 Feature Highlights
CGO3+ 4K 12MP UHD camera
6 Rotor Safety with 5 Rotor Fail-Safe
Sonar Collision Prevention
Retractable Landing Gear
Up to 25 Minutes Flight Time
8 Smart Flight Modes
Android-powered ST16 Ground Station features a 7-inch touchscreen
Pros
It can also be paired with a second controller though, which opens up the possibility of a separate pilot and camera, something not easily done with any other similarly-priced drone on the market. This drone is an excellent build.
The fold-up arms and snap-on propellers are great features. Also, the feature of switching the indicator lights is great when you take night photography, with no glare from the lights.
Typhoon H uses sonar, which means that it can still avoid obstacles in low light and complete darkness.
The Typhoon H boasts features like Cable Cam, Orbit, Follow mode, and even a few others — all of which allow the user to relinquish control of the drone's flight and focus solely on controlling the camera.
To test the legitimacy of the given specs, we popped in a full battery, fired it up, and kept the drone at a simple hover while we stood by with a stopwatch.
Under the least-demanding conditions, the Typhoon stayed in the air for just under 24 minutes and gave us 18 minutes of airtime in a bit harder flight.
YUNEEC TYPHOON H has just about everything you could want in a camera drone: smart autonomous flight modes, obstacle avoidance, a dedicated touchscreen controller, and even a 4K camera with full 360-degree rotation.
That's a hell of a package, and if you're in the market for an aerial photography/videography drone, the Typhoon H is definitely a top contender.
2) DJI MAVIC PRO

Feature Highlights
12 MP camera supporting up to 4k Video Recording with 3-axis stabilization (pitch, roll, yaw)
OcuSync Transmission System
SkyAutKonomy for obstacle detection
ActiveTrack for advanced autonomous flight strategies
Max speed of 40 mph (65 kph) in Sport mode without wind
About 23 Minutes of Battery Life
Pros
An unprotected drone could hit obstacles during long-distance flight or when descending fr. om an inadequate height in Return to Home mode.
The Mavic uses SkyAutonomy technology to sense obstacles up to 15 meters so that it can fly at up to 22mph (36kph) while avoiding the things it sees.
When you have a 4K sensor, you expect 4K results without compromises. Every shot you take with the Mavic Pro can be up to 4K, captured at 30 frames per second. The Mavic Pro camera records true 4K video — four times the size of 1080p — at 30 frames per second and Full HD 1080p at 120 frames per second, so you can create incredible slow motion.
Its minimum focusing distance is just 19in (0.5m), making it perfect for everything from the ultimate drone to once in a landscape. ActiveTrack uses deep learning, computer vision, and advanced autonomous flight strategies to make complex, creative shots as simple as possible with just a tap.
Whether you just want to take a snap or are building up your portfolio, the Mavic's 12-megapixel camera with Adobe DNG RAW support is ready to shoot.
So, with this tech here, you won't need a film crew and still, you can shoot like a pro.
3) DJI PHANTOM 4 PRO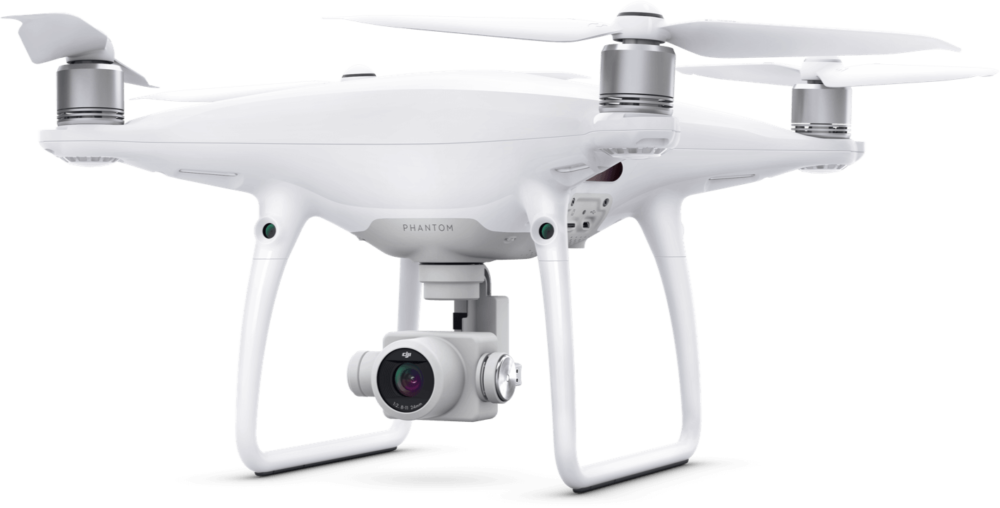 Feature Highlights
20 MP camera supporting up to C4K:4096×2160 24/25/30p @100Mbps recording
Fully controllable 3-axis gimbal camera
Satellite stabilization
Max speed of 45 mph (72 kph) in Sport mode without wind
Infrared sensing system with a range of 0.6 – 23 feet
Forward, Downward, and Backward Vision System
Maximum Control Range of 4.3 Miles
Visual Tracking of Moving Subject
Up to 30 Minutes Flying Time
Pros
When shooting aerials, the remote controller is responsible for most physical controls including piloting and capture.
However, more challenging shoots require a real-time video feed, vital flight statistics, and advanced settings. These are traditionally handled through a smart device, making the smart device essential to aerial imaging.
For keeping flight steady and reliable, data from Compass and IMU sensors is run through advanced algorithms to check the accuracy and any inaccurate data is simply discarded without affecting flight, keeping flight steady and reliable.
Using brand new DJI Lightbridge HD video transmission technology, the Phantom 4 Pro has a maximum transmission range of 4.3i (7km) *. Before each flight, it scans a range of available frequencies to find and use the one with the least interference. By supporting 2.4GHz and 5.8 GHz frequency bands, it gives you more reliable control.
Tightly integrated with DJI GO 4, Lightbridge video transmission also sends vital flight statistics in real-time and can be used to quickly download photos and videos to connected mobile devices.
What's better than having Gesture Mode preinstalled where your selfies can be captured easily using a few gestures without the remote controller.
Advanced computer vision technology allows the Phantom 4 Pro to take instructions through gestures. The subject simply lifts their arms when facing the camera and the aircraft will recognize this movement by locking on and placing the subject in the center of the frame.
When ready for a photo, the subject holds their arms out to signal the aircraft and it gives you a three-second countdown to strike a pose, allowing moments to be captured without the remote control.
4) Yuneec Q500 4K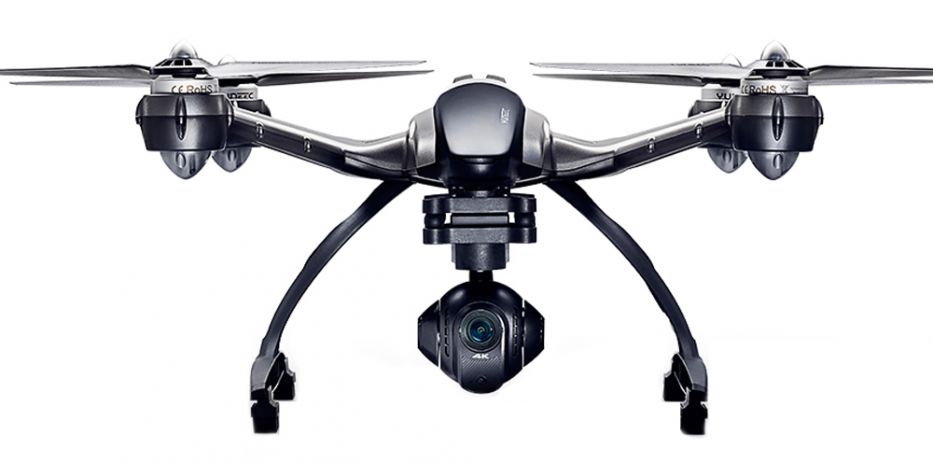 Feature Highlights
12 MP White balance, light exposure, ISO, shutter speed camera supporting up to 4K UHD at 30FPS
Integrated 3-axis precision gimbal camera
Handheld SteadyGrip for capturing video footage
Flight modes include Watch Me & Follow Me, Angle mode, and Home mode
5" ST10+ Ground station display with Two Pilot Mode
Up to 24 Minutes Flying Time
Pros
Easy to use yet sophisticated, the Q500 grants even amateur photographers the ability to produce professional-grade images and video.
The fully controllable 3-axis gimbal camera can shoot straight ahead to capture the horizon or pivot up to 90 degrees down to capture overhead footage.
The Typhoon's camera produces excellent results, and while the drone is slower and more sluggish than others, it's remarkably easy to pilot. Everything from taking off till landing went incredibly smooth.
The gentle acceleration makes it just perfect for aerial filming, the resulting videos are very smooth and steady.
The Typhoon's flight control system is great overall, it makes flying dead simple and trumps everything we've used. Roughly 16.5 inches long and standing just over 8 inches tall, the Q500 weighs just under 4 pounds with the battery and payload both attached.
The ST10+ Personal Ground Station controller, included with all versions of the Q500, houses all the necessary joysticks, buttons, and settings necessary for everything from flying and landing the drone, to activating its features and capturing photos or videos.
Outfitted with a crystal-clear, 5.5-inch color touchscreen, the ST10+ gives you a front-row seat to exactly what the drone sees as it flies.
Though much of the screen is dedicated to a live video feed, pilots also receive constant updates on the craft's battery life, its altitude and distance from the controller, ground speed, and GPS status, among several others.
Modes
Flip the top-right switch on the remote to Smart mode, and the Q500 enters one of two autonomous flying modes: Watch Me and Follow Me.

In the Watch Me mode, the camera will remain pointed at the operator, but the drone will stay under manual control.
In the Follow Me mode, the drone will follow the operator automatically as he or she moves.
The big props make the sound pretty much unnoticeable at roughly 100′, unlike the "swarm of bees" sound made by smaller higher pitch props. The 5,400-mAh lithium-polymer battery gives an average flight time of 20 minutes under average flight conditions.
So, if you are looking to become a serious drone pilot, it's a perfect drone to begin the journey with.
5) DJI Phantom 3 Professional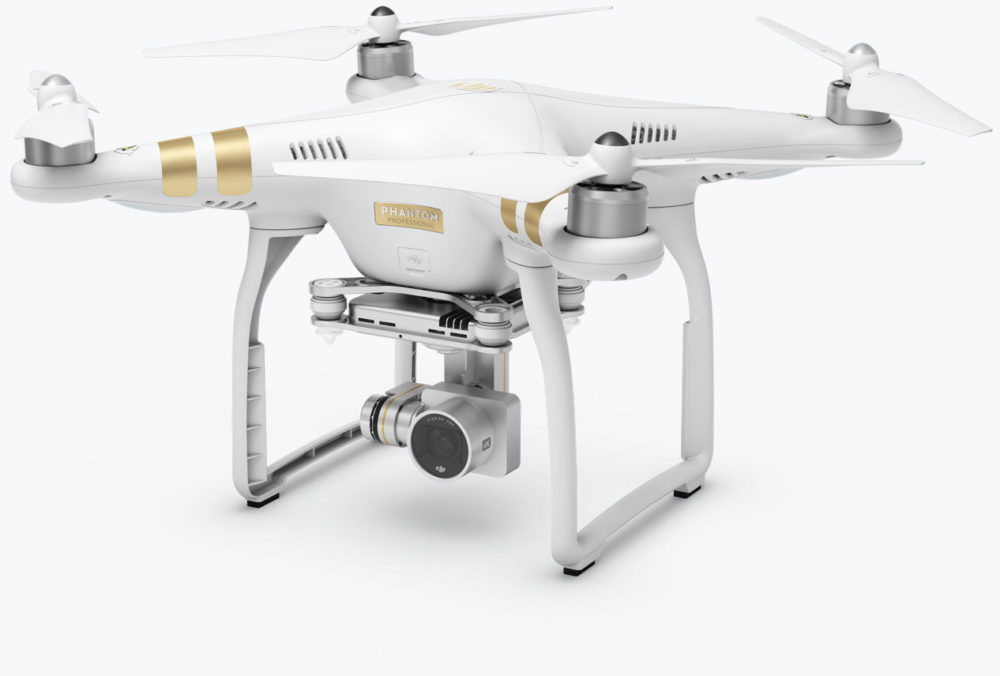 Feature Highlights
1/2.3" CMOS 12 MP camera supporting up to 4096x2160p 24/25 video recording
3-axis stabilization (pitch, roll, yaw) gimbal
Lightbridge digital streaming for live 720p video streaming
GPS+GLONASS Dual Positioning Module
Up to 23 Minutes Flying Time
Pros
The drone comes with a feature known as the Lightbridge digital streaming, this feature allows the user to live stream 720p videos on the internet, while the full-size video is being recorded and stored internally.
Last but not the least, the Phantom 3 Professional comes with an iOS and Android-compatible application that lets you control the camera, as well as have a live view of everything that is being recorded by the camera on your phone.
The Future of Best Drone Cameras
If you take a closer look at the models on the market today, you'll see several clear hints and clear signs regarding where the drones are heading; at least for the foreseeable future.
One of the massive issues that drone pilots have to deal with is the number of hardware restrictions.
The biggest of which is the battery life and power restrictions. Even the most expensive of drones still have around 20-25 minutes of flight time per battery and having more than one fully charged battery on you at a time is actually a normal occurrence.
Especially if you plan on using your drone for image and video capture.
Drone manufacturers are currently experimenting with different battery solutions as well as trying to design ways in which to obtain a bigger, more powerful battery.
Another innovation, which is currently on the drawing board, is a way in which pilots can actually handle and operate the camera to its full extent while in flight.
With this technology, you'll do a lot more than just pointing the camera in the right direction or fiddling with the gimbal settings. The idea is to make everything from filters to lighting to lens settings to the most advanced bitrate and recording options available at your fingertips off of your tablet or controller.
The controller itself will be undergoing massive transformations, which have already started to take place.
What we can be certain of is the fact that drones will carry on evolving and bring more features to the table. Slowly, but surely, drones will grow and all their current shortcomings will be resolved and improved upon.
FAQs | Best Top Rated Drone Cameras
🤔 Which drones have the best cameras?
DJI Inspire 2. DJI Mavic 2 Pro. DJI Mavic 2 Zoom. DJI Phantom 4 Pro V2.0. DJI Mavic Air 2. DJI Mavic Pro.
🤷‍♂️ What brand of the drone is best?
DJI is probably the best well-known name in drones on the market today. ... Hubsan is one of the top manufacturers of toy-class drones. ... Parrot is best known for its Bebop drone, a cylindrical piece of plastic and foam that makes up an easy to fly drone. Yuneec is a, well, unique company in the market.
🙋‍♀️ What Phantom drone is the best?
The DJI Phantom series of drones are some of the best machines on the market, while the Phantom 4 Pro V2. 0 is the best consumer offering, professional users will want to look at the Phantom 4 RTK.
👉 How much does a decent drone cost?
The typical cost for a toy drone ranges from about $20 to $250. Camera Drones start at around $300 and go up from there. The DJI Mavic Pro (the best drone we've tested) retails for just under $1,000. Professional drone users will spend tens of thousands of dollars to get the best image quality and flight time.
Quick Links:
Over To You: Your Favorite Best Drone Cameras?
I hope you like our detailed list of Best Top Rated Drone Cameras 2023: Buyers Guide Reviews. So share your experience with us in the comments below!