In this blog, we are going to see the Top Best 10 Wireless Routers 2023 with its Pros & Cons.
People nowadays are more like to be surrounded by new technologies and these new inventions are helping us on our daily basis work. Be it office work, school projects, families reuniting over social media, entertainment sources, etc. And here we know, the internet is the ultimate blessing for us in our life.
And by the means of routers, we can use it. So, we'll be talking about the top 10 best wireless routers, you should be buying this year.
Life is boring without the internet do you agree? Without good routers, I will die for sure because that is something I cannot live without a second because you know that I am an internet geek 🙂
Wireless routers provide various kinds of networks according to our requirements such as wired LAN (local area network), wireless-only LAN (WLAN), or a mixed wireless network, depending on the manufacturer of the model.
A wireless router is a device that plays the role of a router and also performs the functions of a wireless access point.
It provides access to the Internet or a private computer network. In today's digital life, the concept of wires is becoming outdated from computer to laptop, telephones to mobile; everything has become wireless now and thus, hassle-free.
Thanks to the Wireless network we no longer need to run the network cables around the house or building.
We have made a list of the top best wireless routers for you with their best useful features, advantages, and limitations as well so that with all the necessary information of a model you can easily make the best choice.
List Of Top Best 10 Wireless Routers Of 2023
1) Wireless Tri-Band Gigabit Router: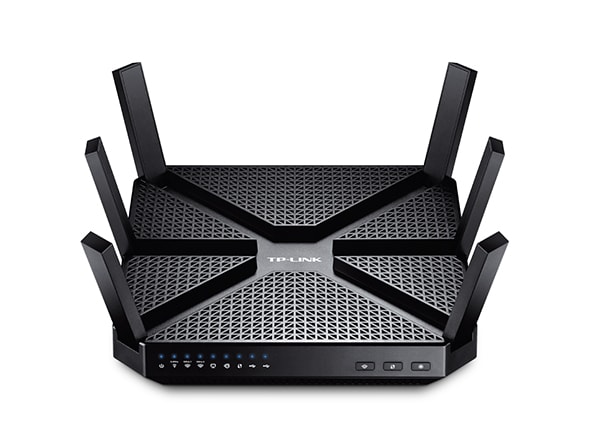 Archer AC3200 is the top best wireless router. Let's suppose if you have a high-traffic network with multiple clients vying for bandwidth, you may want to get an upgraded router.
Dual-band models offer one 2.4GHz and one 5GHz Wi-Fi band, and two 5GHz bands. The extra 5GHz band goes a long way in easing wireless networks and gives you more control over how clients connect wirelessly.
Features:
The C3200 brings a clean and simple management interface.
provides the usual basic settings page alongside advanced pages for each Wi-Fi band.
On the router itself, you can initiate WPS, disable LED lights, and switch Wi-Fi on and off.
Advantages:
It is used for lots of management features, Good close-proximity 5GHz throughput, and relatively fast file-transfer speeds in testing.
Limitations:
It is expensive for the normal daily basis work and also has multiple features which are not very easy to get.
2) Linksys EA9500 Max-Stream AC5400:
The AC5400 comes with a single 2.4GHz band that can easily reach up to 1000 Mbps. It adds up to a whopping 5.3Gbps. This router brings various features including MU-MIMO, dual-core CPU, and eight adjustable antennas.
It's known as the coolest feature "Smart Connect", which allows you to assign separate SSIDs for the two 5GHz bands, and lets you have one network purely for your gaming desktop computer, and another for media streaming or professional work too.
The Next Generation of AC2 Wi-Fi utilizes Multi-User MIMO technology which improves productivity in your home office while keeping your family's Wi-Fi devices online every time at the same time and at the same speed.
Features:
It provides a speed of 802.11ac can excess up to 5.3Gbps.
This router is perfect for a 4K / HD TV with Next-Gen AC MU-MIMO technology.
It has Tri-band technology for combined speeds of up to 5.3 Gbps.
It offers seamless roaming
It has remotely monitored and controlled the network with Linksys Smart Wi-Fi.
8 Gigabit ports and USB 3.0 for fast wired connections for you.
It has advanced connectivity with Eight Gigabit Ethernet Ports.
Advantages:
It easily Enables Seamless Roaming by pairing Max-Stream Routers with Max-Stream Range Extenders.
Good Tri-Band Wi-Fi offers a third, dedicated high-speed band to reduce buffering and lag.
8 Gigabit ports to increase speed 10x faster than standard Ethernet for your printers, consoles, and Smart TVs work.
It gives you backed by 3-Year Warranty and Tech Support.
Easy to setup
Limitations:
This model is also very expensive, Not easily available in the market, and Multiple features that are hard to understand.
3) Asus RT-AC88U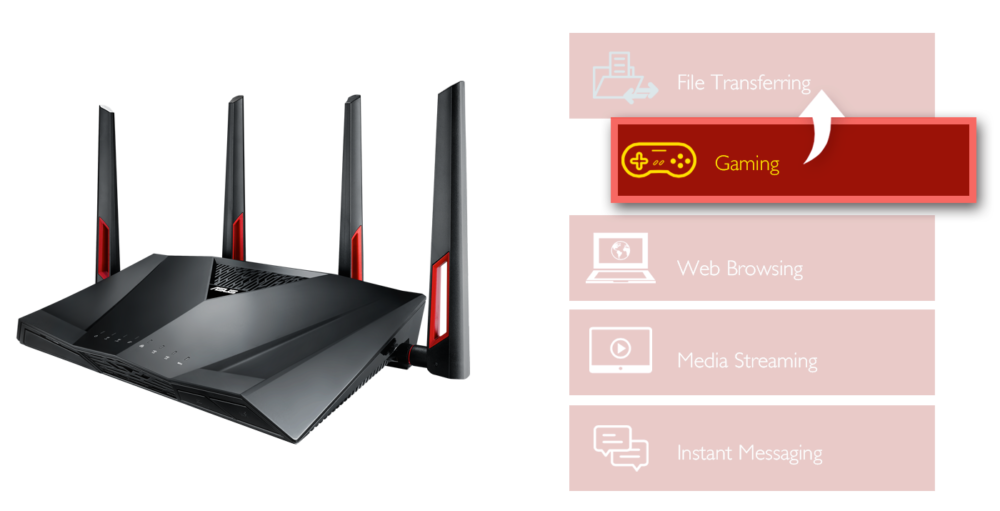 The Asus RT-AC88U comes in the market with average pricing with unrivaled record-breaking wireless performance. It has four antennas and NitroQAM technology, which pushes speeds up.
The design of this router is good; the router is enclosed in a matte-black housing. It has LED indicators on the front panel to indicate the status of different ports and internet.
Features:
Expansive Connectivity Options which means it has exclusively 8 x Gigabit LAN ports for up to 8 Ethernet-compatible devices to connect.
Very powerful 1.4 GHz dual-core processor, Faster USB data transfers enjoy up to over 100mbps speed and the router download/upload speed is up to 1.8gbps.
Smart Connect implies this router automatically chooses the best band available for you.
Advantages:
A great number of ports and control features.
Fast results.
For multiple users, it offers Multi-User Multiple Input, Multiple Output (MU-MIMO).
Limitations:
High price tag.
File-transfer speed is average.
4) Netgear Nighthawk X4S VDSL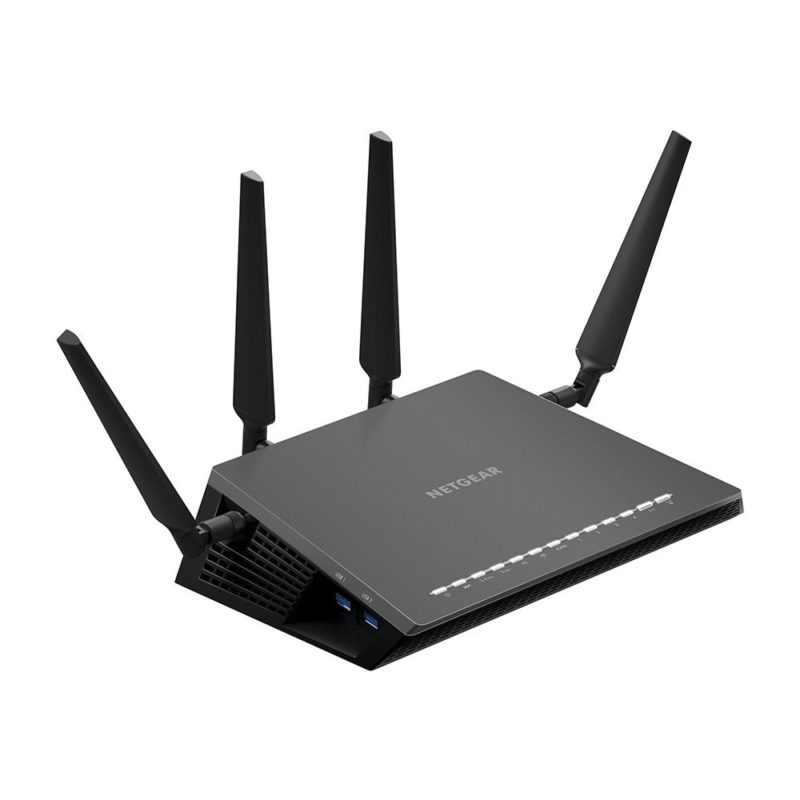 Nighthawk X4S AC2600 is made its place on top 5 WiFi. VDSL/ADSL Modem Router with MU-MIMO and Quad Stream technology provides WiFi to multiple devices simultaneously for faster speeds.
You can get ultimate WiFi speeds of up to 2.53Gbps, with a powerful 1.4GHz dual-core processor. Enjoy smoother streaming and gaming by prioritizing application and device with Dynamic QoS. The software is pretty good too.
Features:
It is not compatible with cable broadband ISPs such as Hathway, ACT, Tikona, MyWorld, Nextra, Siti Cable, You Broadband, Spectranet, etc.
It has Fast Internet transmission of up to 24 Mbps downstream, 1 Mbps upstream.
Wireless speed is up to 54 Mbps (802.11g) and 300 Mbps (802.11n)1.
Wireless ON and OFF button is also included for user's convenience.
Advantages:
It gives you Impressive throughput speed at 5GHz and also Multi-User Multiple Input with Multiple Output.
It offers great management through a variety of options.
Limitations:
This is Expensive.
Mediocre file-transfer speed.
Nighthawk is a serious player in 5GHz and MU-MIMO market and it is very user-friendly.
5) Linksys WRT1900ACS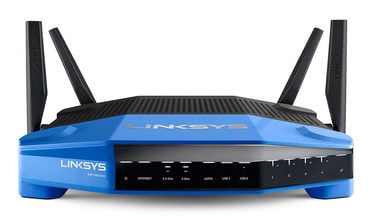 Linksys WRT1900ACS is a less expensive router in the list than the list, and it doesn't offer the same blistering performance as others do, it still packs performance and great software.
The internal of this router is very powerful. A dual-core 1.6 GHz processor and 512MB of memory drives a great-looking software interface and with a built-in VPN, great wireless range as well as fast external connectivity via USB.
It provides the Linksys Smart WiFi software with a network Map through which you can easily see all connected devices on a single screen, track the status and network strength of the devices.
In addition to 4 Gigabit Ethernet ports, the router gives the best connectivity to wired devices via USB 3.0 port and dual eSATA/USB 2.0 port too and letting you transfer huge files without the wait.
Features:
Wireless-AC is up to 4.3x and dual-band speed up to 600 Mbps (2.4 GHz) + 1300 Mbps (5 GHz) for media.
It has 4 high-performance antennas to enhance dual-band communication with others; four external, adjustable antennas ensure supreme Wi-Fi.
Dual-Core 1.6 GHz CPU is the best powerful CPU that promotes simultaneous high-speed data processing allowing multiple users to work online, stream movies, and transfer files without lagging.
You can share content via an external storage device with ultra-fast data transfer speeds.
Advantages:
This router is not very expensive.
It delivers very fast throughput speed in the certainly long range.
It has an impressive design.
Also, provide sharp network storage speed.
WRT1900ACS has a very long range and very fast speed.
Limitations:
Time Machine backup is not available for Mac users.
6) D-Link DIR 890L – Best Range Wireless Router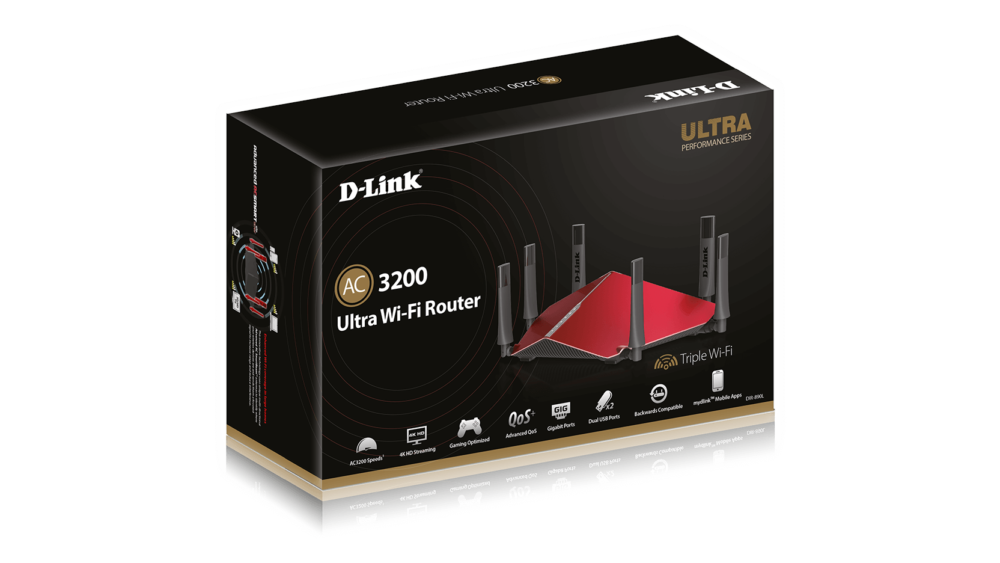 The next modem that we will talk about is one of the top wireless routers from D-Link, this company is well known when. It comes to routers and this D-Link company has a long history of providing some of the best networking products.
And the AC3200 Ultra Wi-Fi DIR-890 is the next big thing that this company has to offer to the digital world. And the fact here is that it is one of the most stylish looking wireless routers we have encountered.
Many routers in the market do beat this one from the D-Link in terms of look and style, but looks shouldn't matter when this router has a lot more than just looks to offer to you unlike many other routers in the market these days.
Because what eyes see isn't always true, there are a lot of things hidden and locked which should be unlocked so that we can find out how useful they are to us.
Whether you find the unique and sharp design of the router interesting and useful or not but several features this router provides you with; the DIR-890 by D-Link is preferably one of the best routers in the market currently, although it does prefer style over the substance it also manages to give you a respectable and quite a trustworthy performance.
A few tests have been done on this D-Link router and these tests reveal that the router is quite easy to set up, very fast and is also very easy to use for the customers, and it also has a good speed/range when we use it for Wi-Fi.
Another great feature that this router offers you is that it comes with the ability to be doubled up as a NAS by adding an external hard drive to it. This router has an overall red build that is complimented with the black colored accents. So, let's talk about all the amazing features this router has to offer us.
Features:
This stylish router has a height of about 10.2 Centimeters which is called a medium size and it can be accommodated very easily in any place.
The router has a width of about 38.1 Centimeters.
The overall dimensions of the router are about 24.8 x 38.1 x 10.2 cm.
It has 2 processor count to offer and has an 802.11 A/C, 5.8 GHz Radio Frequency as well as 802.11 a/b/g/n.
It possesses the Smart Connect Technology that lets you choose from the Wi-Fi bands and gets connected with each device automatically to deliver a reliable connection every time.
It has the parental controls features which have the ability to block unwanted sites and also can monitor regularly, your internet activities which in turn makes this router safe and secure
Advantages:
They possess stellar build quality as well as some amazing aesthetics.
It is an Incredibly fast router and is also problem-free and offers you a decent range.
The router is quite easy to set up and easy to use as well.
While using this router one thing to keep in mind is that the DIR-890 is a tri-band router, and if you are a genetic consumer who wants just a router for normal use, then this one is something that you should avoid.
Limitations:
The antennas that they possess cannot be detached.
The price isn't pocket friendly for much of the customers.
7) Asus RT-AC3200: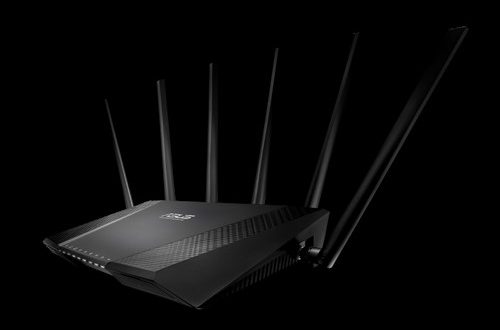 So, here's yet another router from this amazingly promising brand of Asus.
This is a tri-band router that comes along with quite a hefty price tag, but the matter of fact is that several features are packed into this router alone and these features alone are enough to justify the high price of this item.
If you are willing to spend your money on a router that you wish should give you extremely good performance and plenty and plenty of features then this is what you are looking for.
So, If you are a networking enthusiast, then you should check out all the details and the features of the RT-AC3200 by Asus for sure.
The RT-AC3200 is one router that is built for network enthusiasts and basically, for the people who genuinely enjoy the top-tier hardware, the router is incredibly fast and has passed almost every speed test it has gone through, and has really good performance over Wi-Fi, with respectable range.
The router also has an extremely outstanding web interface that makes it easy to setup.
Features:
This router provides you with the world's fastest combined data rate of 3200 Mbps
This router from the brand of Acer allows every device to work at a very high speed,
It makes sure that there isn't any lag when it comes to online gaming, also it has smooth 4K/UHD video streams, and an effortless downloading feature as well.
The tri-Band Smart Connect selects automatically the fastest of the three frequency bands that are available for each device, which is basically based on the speed of the device, signal strength, and that how busy each band is.
It has a built-in USB 2.0 as well as USB 3.0 ports which are about 10-times as faster as the data transfers to USB storage devices1, it has the printer sharing feature and 3G/4G dongle support.
The graphical user interface of ASUSWRT is for easy, CD-free 30-second setup as well as a hassle-free advanced control of the network.
ASUS AiCloud 2.0 allows you to access, sync, share, and also to stream your files anywhere, on any internet-connected device.
This router is 9.4 centimeters high.
It is about is 23.6 centimeters wide.
Advantages:
This router comes with incredibly powerful hardware.
The speed on every band is ultimate and has no flaws.
It does provide you with added security.
The Router can work as a NAS server as well as an OpenVPN server.
Limitations:
The router is maybe bulky at times.
8) Amped Wireless RTA2600 Athena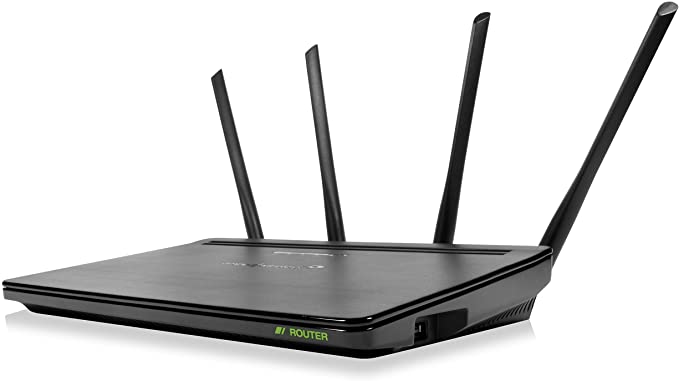 So, the next router we will be talking about is the Amped Wireless RTA2600 Athena.
Though not a very expensive router, this router comes with a plethora of features that are enough for each consumer including the average consumer and people who are looking to have some more.
The router manages to fair pretty well in almost every testing that it has gone through, although the router doesn't have a lot of features unlike some other in the market, the ones it has are properly polished and don't require you to spend countless hours trying to figure out what is what.
The router control panel is amazingly responsive, and very easy when it comes to setting up. This router also comes with powerful hardware that should keep it afloat without giving any performance issues. So, here let us talk about this device a little bit in detail.
Features:
The 1.4GHz dual-core Qualcomm Processor provided by this router along with the 4 simultaneous Wi-Fi streams are designed to handle heavy traffic with ease.
The high Power Wi-Fi of this router delivers you whole-home coverage and also comes with around 16 powerful amplifiers and 4 high gain antennas.
The Unmatched AC2600 Wi-Fi has a Speed of about up to 2.53Gbps, 2.4GHz 800Mbps + 5GHz 1733Mbps.
It has the Multi-User MIMO which is designed to deliver data to multiple devices at a single go for better performance and with up to 3x more speed.
It provides your a gaming experience without any lag and stream HD and 4K media to multiple devices at just one go, without the need for buffering.
Advantages:
The performance of this Wi-Fi router is far better regardless of the number of devices it is connected to.
The setting up of the router is quite easy and anyone who has a little networking knowledge can do it.
Limitations:
High price can be the issue for some buyers
9) TP-Link Archer C7 AC1750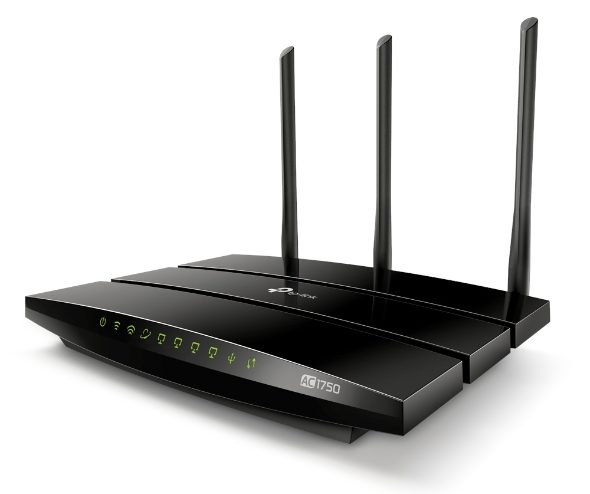 TP-LINK Archer C7 AC1750 is the best wi-fi router under $100.This router is especially for people who are gamers and enjoy games on the internet as well as streaming, thanks to the fact that this router has a combined speed of 1.75 Gbps.
The router has a total of 6 antennas, 3 of them are external while the remaining 3 are internal.
There is more number of antennas to provide you with a respectable amount of Wi-Fi range and the speed also happens to be respectable enough.
The router also comes with NAS capability, but don't get too excited as it is only average. let us focus on some features of this product.
Features:
It provides us with Internet access via the ADSL service and also creates a wired sharing network.
The live parental controlling feature allows the parents to establish restricted access policies for their children or staff.
It works with ADSL standards for Up to 24 Mbps downstream.
The IP QoS features for improved bandwidth control across the network
It supports 802.11ac standard which is called the next generation of Wi-Fi
It has a simultaneous 2.4GHz, 450Mbps, and 5GHz, 1300Mbps connections for about 1.75Gbps of the total available bandwidth.
The dual USB 2.0 Ports have the ability to easily share a printer locally and files as well as the media with networked devices or remotely via FTP server.
Advantages:
It is a budget-friendly router.
It has quite a respectable performance on each band.
NAS capability is one of the best add.
Limitations:
The average build quality is only plastic.
10) NETGEAR Nighthawk AC1900 Wifi DOCSIS 3.0 Cable Modem Router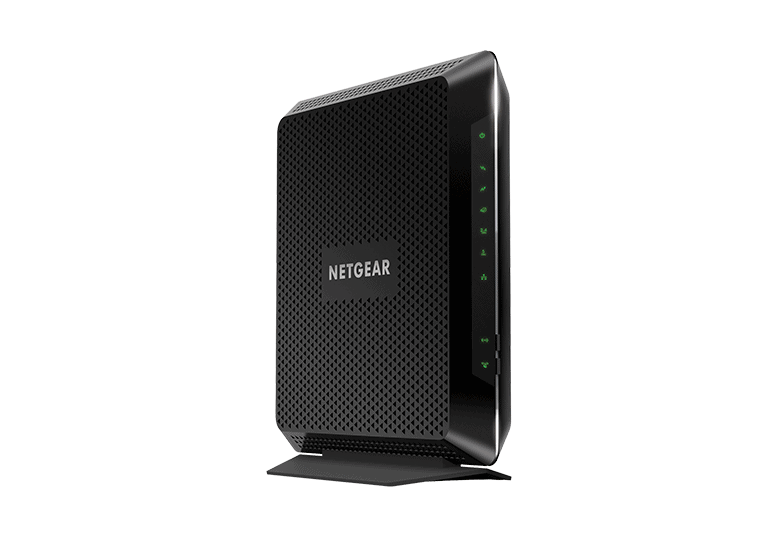 The router is unconventionally named AirPort Extreme Base Station. Although it has an amazingly stunning look, this router is actually very capable and performs really well. The router is quite fast in all the tests it has undergone, another interesting thing about this router is the amount of Wi-Fi stability and speed it provides. So, let's talk about this device in detail.
Features:
The height of the item is 12.2 centimeters.
The width of the item is 12 centimeters.
It has a Mac hardware platform.
With amazing 802.11ac. this product is the new definition of fast.
It has a Simultaneous dual-band support
Advantages:
The router is a definitive looker.
The performance that it has to offer is speedy and impeccable.
Very easy to set up and even easier to use.
Disadvantages:
All the upgrades over the predecessor are always subjective.
Quick Links:
FAQs | Best 10 Wireless Routers
🤔 Is there a wireless WiFi router?
Wireless routers are commonly found in homes -- they're the hardware devices that Internet service providers use to connect you to their cable or xDSL Internet network. A wireless router, also called a Wi-Fi router, combines the networking functions of a wireless access point and a router.
🤷‍♂️ What is the purpose of a wireless router?
A wireless router connects directly to a modem by a cable. This allows it to receive information from — and transmit information to — the internet. The router then creates and communicates with your home Wi-Fi network using built-in antennas. As a result, all of the devices on your home network have internet access.
🙋‍♀️ How long do wireless routers last?
At the current pace of change, the average lifespan for a router is probably about five years. Upgrading every five years ensures that you'll always have the best features and performance without unnecessary side-grades.
Over To You: Find Your Favorite Wireless Routers 2023
So, these are the Top Best 10 Wireless Routers 2023 you should go for with all its pros and cons. You can choose according to your need.
Drop a comment below about your current router and let us know how is it.