Email Marketing is one of the best ways to build a highly engaged and loyal audience for your business or your blog.
The members of your email list not only trust you, but you also get the chance to turn a new person into your brand advocate by nurturing and providing them insane value. and later you can monetize that traffic in any way you want, you can sell ebooks, Courses, Affiliate links, or anything you want if they trust you enough.
Over the past few years, Email Marketing has proved to be the most profitable source of traffic that you can get, not only do the members of your email list trust you, but they are also willing to buy anything that you pitch them.
That's why it's very crucial to build your email list from day one so that you capitalize on the opportunity that's hidden inside Email Marketing.
So Today in this Email Marketing 101 article I'm Going to show you how you can get started with email marketing and that too for FREE.
So let's get started.
Email Marketing is the most important skill when it comes to blogging and internet marketing.
it is an absolute game-changer if you know how to do it correctly and how to leverage the knowledge to maximize your profits.
What is Email Marketing?
Email marketing is the form of marketing where we market our business, products, or our content to our target audiences or customers via emails.
We get the emails of our target audience or customers via numerous lead generation techniques like offering a Free lead magnet, Offering something for free in exchange for their email address.
And after they are on your email list, you start nurturing them so that they become your warm audience and gain their trust.
After that, you can start sending some promotional emails too in between the value emails to make some money off of your email list.
Why Email Marketing Is Important? And Why You Should Care?
Email marketing is very important and it's one of the best online growth channels that can explode your business traffic, revenue, and awareness exponentially.
Email Marketing can help you in the below-mentioned ways.
Email Marketing helps you to build trust with your audience
Email Marketing helps you to get more clients for your business
Email Marketing strengthens relationship with your customers
Email Marketing builds your brand
Email Marketing can be used for small business to get more customers
Email Marketing helps you to boost your sales and revenue
Email Marketing can be used for ecommerce sites to make them buy more from your online store
Email Marketing is easy to get started with
Email Marketing can reach any device, desktop, smartphone, tablets etc.
Email Marketing helps you to generate leads
Email Marketing helps you to sell your services
Email Marketing helps you to attract new clients and customers
How Does Email Marketing Works?
The working principle of Email Marketing is very simple and straightforward, you just have to collect emails from your blog, website, or anywhere you want.
Next, you have to start sending some emails to them so that they get to know you, who you are, what you do, why they should care about your emails etc.
Next, you should start sending them targeted emails for your audience who are in your email list that brings value to your audience, educates them, helps them solve a problem, etc. in this way you will gain your audience's trust.
In the meantime, you should also send some promotional emails about your affiliate products that you want to sell, your own products like ebooks, Courses, or anything to make you some money.
That's how email marketing works in a nutshell, you build a list, give them value, turn them into your fans, and then start monetizing them.
but remember to not send them promotional emails every time or else they will leave your email list. because of just promotion.
Email Marketing is for building relationships and community with your audience, not just for selling. so remember that.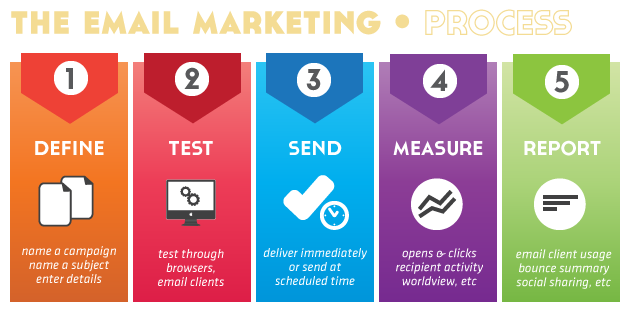 Is Email Marketing FREE?
Getting started with email marketing is very easy it's easier now than it used to be a few years ago.
Because there only existed premium quality services which beginners can't afford, so beginners were just left behind due to that
With the advent of many platforms offering world-class Email Marketing Features For FREE.
Now anyone can start email marketing and start implementing it right away.
Email marketing is not completely FREE some Email tools do offer FREE plans but most of the Good EMail Marketing Tools charge some monthly fees to use their tool.
Convertkit, Constant Contact, Sendin Blue, Drip, Aweber, Getresponse, Mailchimp these some of the top Email marketing tools that charge monthly FEES to use their tool.
But Don't worry below you will find some great Email Marketing tools that you can use for FREE and get started with Email Marketing for FREE.
Getting started with email marketing is FREE, thanks to the FREE email marketing tools like Mailerlite and MailChimp which make it possible for beginner marketers to get started with their email software for free.
But as you start to grow your list, say more than 1000+ Email subscribers then you will need to pay for the bigger size of the list and the number of emails you send per month.
But as far as getting started with FREE is concerned, yes, Getting Started with Email Marketing is absolutely FREE if you are starting from scratch.
Here are the two of the best Email Marketing tools that also have a FREE plan for beginner marketers.
Mailerlite – I Personally use this Tool and I also Recommend this Tool
Which Email Marketing Software will help you get started for FREE?
Mailerlite is the tool to go with. It's FREE
But if you have to Invest in a Premium Email Marketing Tool then I would suggest you Go with ConvertKit.
Bust most beginners don't have money to spend on a Premium Email Marketing tool right away when they start their blogging journey.
because they have already paid for hosting, domain, themes and all that stuffs so it's really very difficult for a beginner to afford a costly email marketing tool in the beginning.
If you are starting from the beginning then you should definitely go with the Mailerlite platform to start your email marketing journey.
Most of the premium Email Marketing Tools start charging you money right away, even if you don't have any email subscribers. But MailerLite is completely FREE for up to 1000 subscribers.
no hidden limitations and you can even remove the Mailerlite branding from your emails.
You get all the full features like broadcasts, building as many email lists as you want, automation everything is FREE.
The only limitation is that you will have to pay for it monthly once you hit the 1000 subscribers mark.
So up to 1000 subscribers, MailerLite is completely FREE.
Which Email Marketing Service Is The Best?
There are lots of Email Marketing tools in the market and choosing the best one among them is a very time-consuming task.
But it all comes down to your preference because different email tools provide different features and pricing.
So here are some things that you should keep in mind while buying an Email Marketing tool 👇
Deliverability
Features
Data monitoring and Analytics
Automation
Reasonable Pricing
Third-Party Integrations
Customer Service and Support
Spam Filters and Testing
The better the tool, the higher will be the price.
Here's an image that shows different Email Marketing tools in Decreasing order of Customer Satisfaction.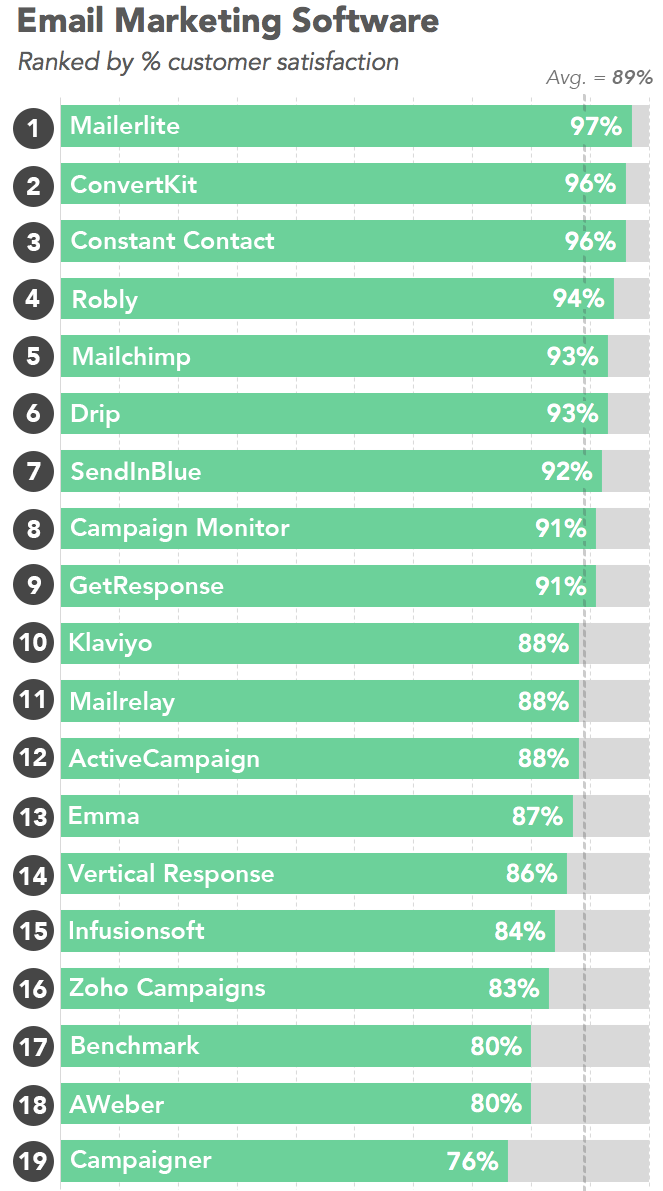 So as you can see from the above image, Mailerlite is the best Email Marketing tool and most people are satisfied with the Mailerlite email marketing tool. I am also personally using Mailerlite for my email marketing purposes.
How to Make Money With Email Marketing?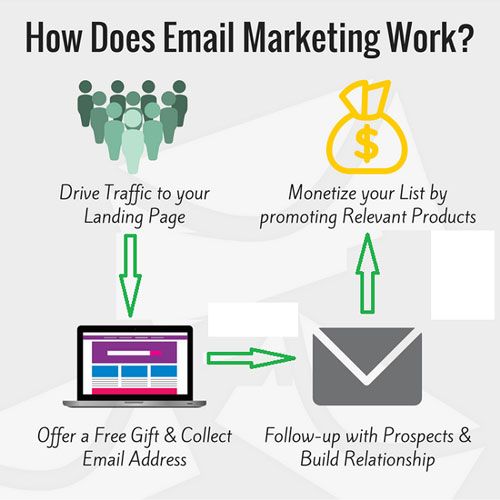 Making money with Email Marketing is pretty simple.
Build an email list of people who know and trust you.
Add value to their life through your valuable emails
Solve their problems through emails
Relate to them them, build community and trust.
After you've built a huge list, start sending some promotional emails, Affiliate sale emails, eBook or Course selling emails etc.
That's how you make money with Email Marketing.
Can You Do Email Marketing Without a Website?
Many people think that having a website is important if you want to do email marketing, but it's just a myth.
There are lots of people in this world where they are doing email marketing without a website.
I have saw YouTubers building their audience on YouTube and sending them to a link where they collect email subscribers, with the help of a lead magnet.
In this way, You can do email marketing without a website, if you have a social media following, Youtube channel, or any other thing where you have an audience, you can send them to your email marketing tool's landing page where you can collect email subscribers.
Most email marketing tools nowadays provide a landing page feature where you can build your landing page for a lead magnet where your audience can put their email addresses and get a freebie in return.
After you collect email subscribers, you can start sending emails and do Email Marketing without a website using just your Email Marketing tool. you can send messages, receive emails and reply to emails all within your email marketing tool.
Where To Learn Email Marketing?
There are many ways of learning email marketing but the best way to learn email marketing is to perform and do email marketing, you will get way much more knowledge and experience by actually doing email marketing than by learning from any course or any article.
Another best way is to learn from a course and parallelly do Email Marketing practically on any email marketing tool so that you can learn different Email Marketing terminologies + How to use tools, how to send email etc. + you will also be gaining email list subscribers on the side and building your community.
Another way to learn email marketing is to work for someone who needs email marketing, but first, you have to learn everything about email marketing from a course, everything ins and out, and then only you will be eligible for work. In this way, you will gain practical knowledge and experience in Email Marketing.
Email Marketing vs Other Marketing Channels
Email Marketing is very different from other marketing channels because of the below-mentioned reasons.
Email is a very private thing, people only give their email addresses because they trust you and they believe that you will add value to their life through your emails.
Unlike other socail media channels like facebook, Instagram, or the others where there are different things and distractions, emails are very different, Emails are private, they only recive emails from sources they trust and know are going to help them or bring them value.
You can do marketing on social media as long as you have social media accounts, if somehow or the other if that social media platform dies tommorow, you will have zer chance of marketing to your audience, Emails are different, it's your asset and nobody can take that away from you.
Important Terminologies of Email Marketing
Email Marketing is very complicated when we first look inside the tool and when we first hear about it.
but really it isn't.
there are just a few basic terms that you need to keep in mind when you start email marketing with any tool.
1. Email Marketing Software
this is the email software tool that will help you to do email marketing.
for example mailerlite, Cnnvertkit, etc.
2. Email List
Whenever someone joins your email service at your blog, they are sent to an email list.
In Mailerlite, its called the groups
3. Automation
Automations are the automated series of emails, that are created specifically for a special targeted group or list.
whenever someone joins a list that has autoresponders on it, it will send the autoresponder messages on complete autopilot.
4. Subscribers
Subscribers are the unique email addresses that reside inside your email list.
every subscriber has a unique email address
How To Grow Email Subscribers?
Step 1: Sign up for any Email Tool like Mailerlite or Convertkit or any tool you want
Step 2: Create a Group (Email list) on your tool
Step 3: Integrate your mail Tool account with your WordPress blog.
Step 4: Create signup Forms, Popups at your blog using Thrive leads or any other email option plugin which will help you to create email option forms.
Step 5: Create a lead magnet so that you can give them something in return for their email addresses.
Example Of Lead Magnets From This Website
Do's and Don't of Email Marketing
Some Common FAQs Related To Email Marketing 101
Is Email Marketing FREE?
No, it's not FREE, but some Email Marketing tools also offer FREE plans to try and test their Tool, with limited features and EMail Subscribers count.
Can You Make Money With Email Marketing?
Yes, you can make money from email marketing if you have an audience that knows, likes, and trusts you.
What is a Lead Magnet?
A lead magnet is an ethical bribe that you give to your email subscribers in return for their email address.
What's The Best Email Marketing Tool?
There are many tools in the market and every tool seems to do its core job very well, however, if you want the best go for Mailerlite.