This article on Duda vs WordPress will guide us through the comparison between the two website building platforms. Roll over and see which one is best suited to create a website for you.
Professional website development has evolved a lot during recent years, unveiling unlimited web building opportunities to newbies and web design pros.
Platforms like WordPress, Wix, Joomla, Tailor Brands, and Weebly have really made website building a smooth and hassle-free experience for everyone.
So much, so that anyone today can build his/her own website in less than 30 minutes, on their own, without having to hire a website developer!
These platforms allow you to build your own website the way you want it is known as Content Management System (CMS) platforms.
Every person who is looking for a good and dependable platform to build their website always looks for one which offers an abundance of tools, features, and an easy-going approach to the process of website creation.
The system should make it possible to start and then manage quality projects, including business websites, portfolios, web stores, landing pages, and more.
So, when you are searching the web for a CMS platform that can help you build your website the way you envisioned it, you will be bombarded with numerous links and reviews of various website builders that claim to be the best.
While WordPress has been the most favorite CMS platform for people, there have also been newer platforms that offer some smoother features than WordPress, placing themselves as competent rivals. One such platform is Duda!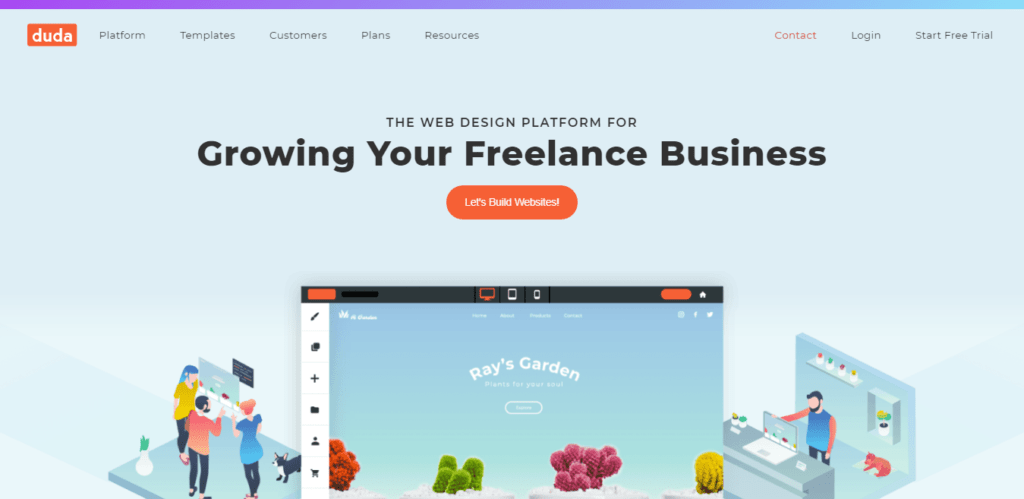 In today's post, we will take you through an in-depth comparison between the veteran and people's favorite WordPress, versus the new competent rookie, Duda! So let's get into the review of Duda Vs WordPress.
Duda Vs WordPress 2023: Which Is Best For You?
Duda and WordPress are two websites that have become increasingly popular in their niches. Both platforms offer advanced website building tools and a range of special features, but they each have their own collection of pros and cons.
Whether a platform is reliable or not depends on your personal preferences and the type of website you want to build.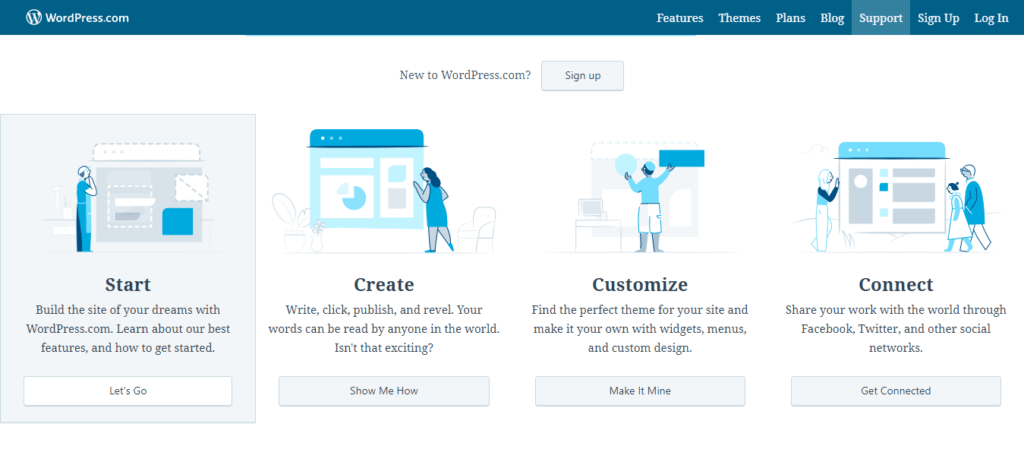 So, you should choose a website builder that can meet your needs while saving you a lot of time and money.
All web-building platforms merit particular attention and each has a collection of features that make them stand out from the crowd. Yet which of them can be regarded as the comparison master and a better choice for most users? Let's kick off.
Features Comparison Between Duda Vs WordPress
1. Ease of Use
Duda
Calling Duda a complex website builder is hard, but if you look at his dashboard, you'll probably be amazed by the rich variety of pages, resources, and elements that you'll see there.
Certainly, a newbie may have to get used to this system, but that won't take long, anyway.
It's also simple and fast to register with Duda – just include the general details about the device requests and access the control panel.
Since the program does have a 30-day trial, you won't have to apply your credit card details. That's another advantage that customers love about the service.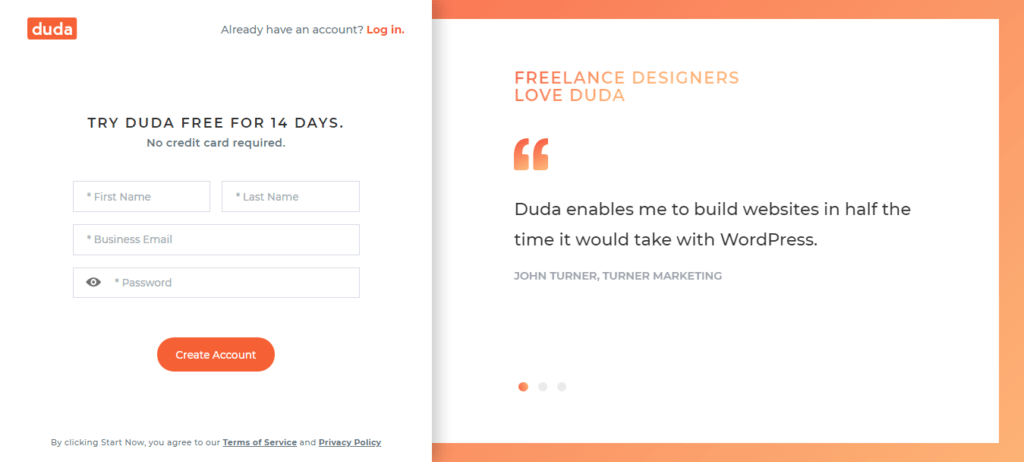 When you complete the process of signing up, you will be provided to select a template and continue with its configuration. It is where the first problems you can encounter.
The thing is, Duda, does have drag-and-drop features but its essential functionality goes down to editing HTML / CSS code, which eventually guarantees a splendid result.
Unless you lack the coding skills, the web design process can be very difficult and time-consuming. It is, however, hardly a drawback because code editing guarantees a worthy and one-of-a-kind result.
Finally, Duda's website builder offers a Developer Mode (a user can test the coding environment directly before editing), a standalone Widget Builder (this is where you can make your own apps), and a Mobile Website Builder (the extension that provides 24/7 access to the system).
Thus, Duda is a simple, feature-laden website creator, that requires time and expertise to be explored and used to gain.
WordPress
As a CMS WordPress.com initially implies the need to explore and learn the program.
Compared to traditional website builders like Duda, the platform is more complex, but that does not mean that if you're a novice, you won't be able to work with it.
In case you really want to build full-featured projects, after preliminary planning you will be able to start them with WordPress.

WordPress.com provides a quick and easy method of signing up. You do, however, need to find suitable hosting and first install the program.
This also doesn't take a lot of time. Just after that, with lots of parts and tabs intended for thorough exploration, you'll be guided to the dashboard.
What's more, you'll need to worry about choosing a domain name as the program doesn't provide integrated solutions.
It is also about understanding the complexities of plugin/template integration processes using WordPress. That also needs a lot of effort and energy, not to mention the need for knowledge of coding.
2. Editors
I was addicted the first time I used the website editor for Duda. It blends Website builders like Wix and Weebly's simple drag-and-drop style with a lot of more advanced devices.
Great compromise between ease of use and performance maybe this.
You can select from a wide variety of pre-constructed pages, including testimonials, FAQs, contact us, pricing plans, about us, text blocks, tabs, footers, and teams by clicking on the 'new section' button in Duda.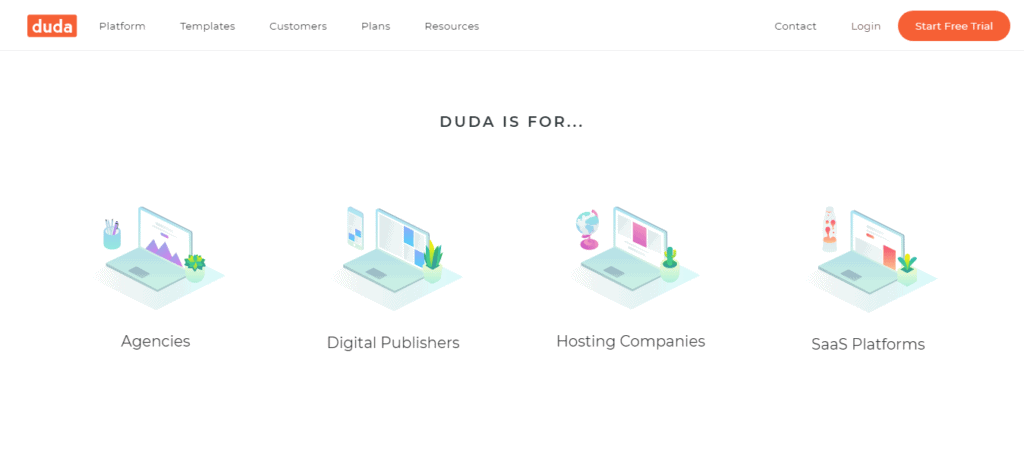 That makes it fast and simple to create your pages — while allowing you to customize the section blocks content. You can also make your own parts for use on other websites.
With a few clicks, there is a wide variety of widgets you can add to your pages, including simple elements such as text, icons, rows, titles, and buttons, as well as more advanced features such as click-to-call buttons, charts, photo galleries and more.
WordPress.com is a little small compared with Duda. It has no integrated drag-and-drop editor and you need to display your pages in a separate window.
You can use WordPress.com's visual editor, but you need a plugin like Elementor to do that (and you can only install plugins on the Business plan and above).
That being said, the editor of WordPress is better than it ever was. The Gutenberg editor was introduced in 2018, replacing the old text-based editor, and introducing blocks of content.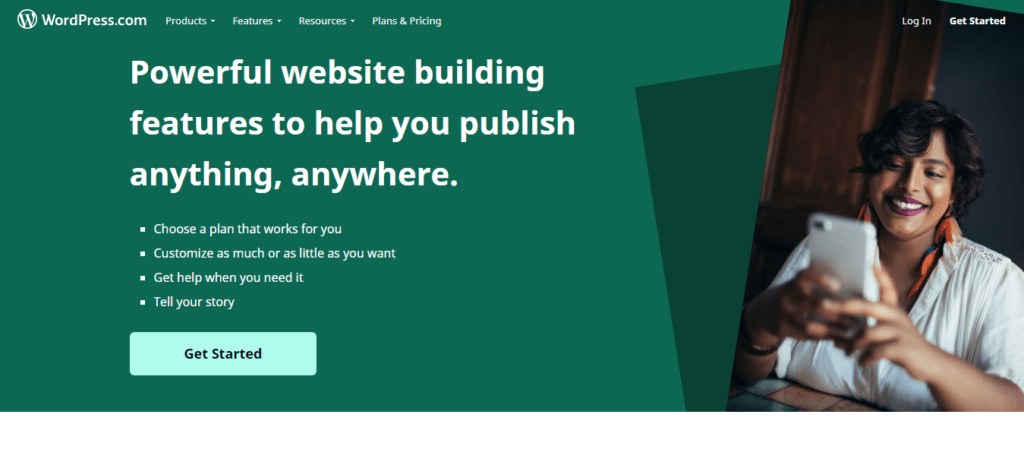 The blocks of content are similar to what Duda calls "widgets," but of a more simple kind. The drag-and-drop editor is easier to use, and you can see how your website will look on different devices, too.
The range of widgets and sections available makes adding content to your website a quick and easy process while giving you complete control over the styling of the content.
With WordPress content blocks, you can create a decent-looking website, but the lack of an instant preview can be annoying. WordPress does offer some other cool features, though, so it is definitely worth considering.
3. Features and Flexibility
It's one thing to be feature-rich, and another to be flexible! While both Duda and WordPress are loaded with power-packed features designed to up your website's performance, the collection of features offered is what sets them apart from one other.
Both platforms seem to be equally competent and flexible, but again, it depends on what you want from your website builder.
Duda
The website builder provides a flexible and impressive collection of features appropriate for designing, maintaining, upgrading, and supporting quality projects.
There is no limit on how many web pages you can create for each website – it is up to you to determine. The same is true about the number of websites created on one account. Here's a short rundown on Duda's features:
You can use Duda to build and manage feature-laden online stores that are accessible equally well on mobile and desktop devices.
The website builder offers numerous eCommerce designs featuring impressive product page templates, a built-in shopping cart, newsletter mailout setup option, flexible payment solutions, and other eCommerce features that are needed.
Equally, Duda enables a functional sensitive blog to be developed. Adding and editing content, and blog posts, selecting their types and formats, viewing statistics, and even giving multiple contributors access rights to the website.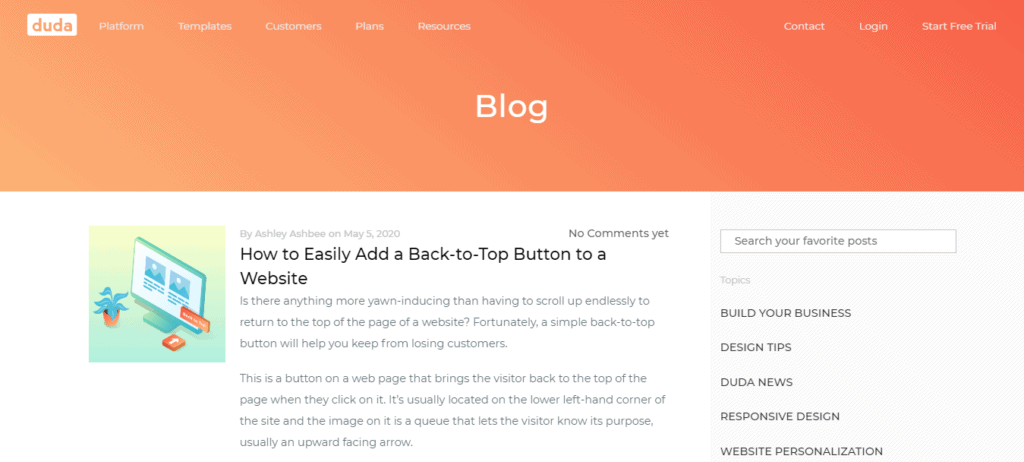 You can switch between two modes of editing – Layout Mode to set up your blog structure individually, and Post Mode to add content. This simplifies the blog creation process and its further administration.
The platform lets you choose to start a website in multiple languages. If you're a code-aware person, you can also access Web page codes to make more specific settings for each language you're using.
The tool enables web designers to incorporate exclusive and tailored content to further select the right target audience interested in it.
User option to target is based on a number of factors like location, time of the day, devices used, etc. In addition, the application allows you to view different messages in pop-up windows intended for users who visit your website.
Duda offers extensive integration options, allowing you to add social network buttons to your project, post social media account links, integrate social feeds, etc.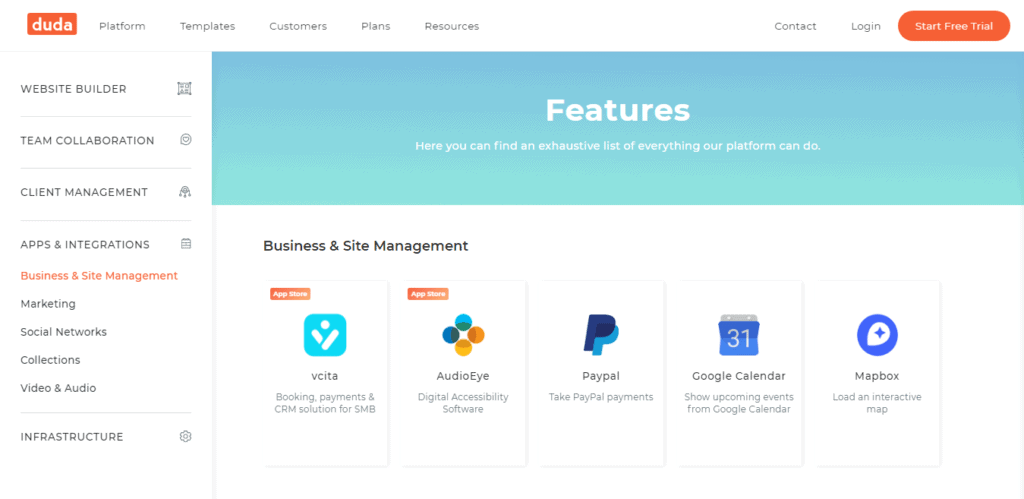 With Contact Forms, OpenTable Reservations, vCita, Disqus Comments, Maps, and Multi-Location widgets being among the most popular items, you can also add popular widgets to get in touch with audiences.
Tech-savvy users can benefit from using the Developer Mode, which offers access to web page codes and allows you to insert your own codes to give a fully personalized look and output to the project.
WordPress
The open-source CMS offers a superior set of advanced features that can offer a fully tailored design and high-end performance to your project.
Its integration and design configuration options are really superb and surpass those provided by other common web building tools in a significant way. Look at some benefits for WordPress right now.
WordPress was originally developed with an emphasis on blogging in mind. Its blogging characteristics should thus surpass your standards.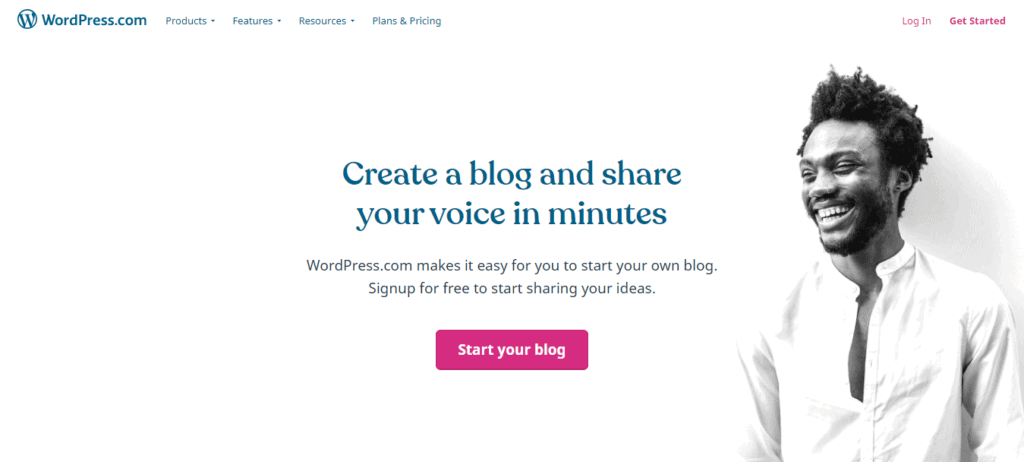 The program helps you to build and update full-featured blogs with loads of customizable content, feature article scheduling, blog management and promotion tools, and many more benefits.
The CMS is known for being extremely extendable. It comes with plenty of free plugins and themes but thousands of paid and free integrations are also available on the web.
Created specifically for WordPress by third-party designers, they allow you to effectively boost the functionality of your website and improve its design. Only get some plugins and themes from trusted experts.
WordPress is one of their recent updates introduced the advanced Gutenberg Editor which revolutionized the website development approach with CMS.
There is no longer the need to deal with the old WordPress HTML / text editor – the new Gutenberg Editor is block-based and therefore allows you to create your own website layout from the content blocks on the network.
The method in this regard resembles the working procedure of normal website builders.
WordPress has no integrated hosting. Users need to choose their own providers based on their individual needs. Nevertheless, the CMS took care of the convenience of its users, recommending that they choose Bluehost.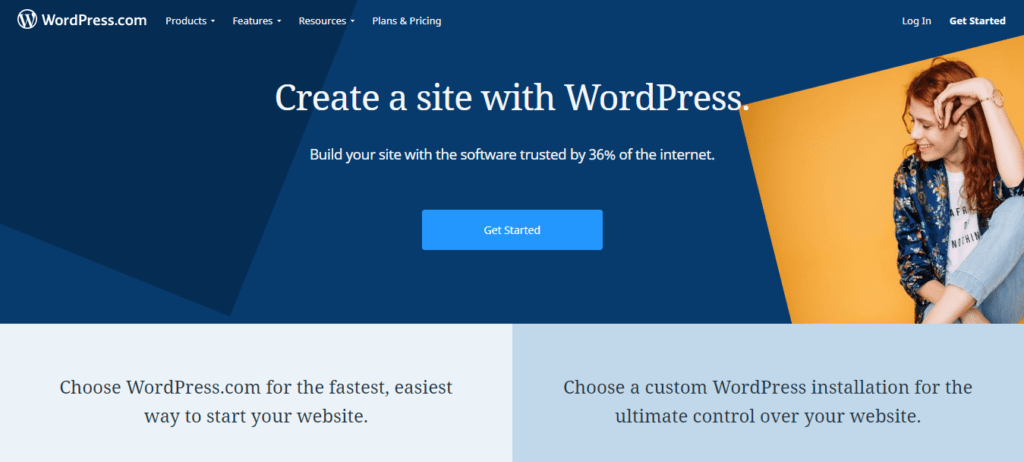 It is a trustworthy host, which includes affordability (only $2.95/mo will cost you the cheapest plan) and a comprehensive feature set.
4. Collection of Templates
You have instant access to over 90 mobile-responsive models with Duda, which are built to look fantastic on any app. The templates are arranged according to the industry in categories.
If you don't have premade templates, Duda also provides blank templates that you can build as you like. Templates are called themes on WordPress, and considerably more of them are available.
You get immediate access to more than 130 free themes on WordPress.com's free plan, with over 180 premium themes available for purchase. Upgrade to and beyond the Premium tier, and load New themes for free.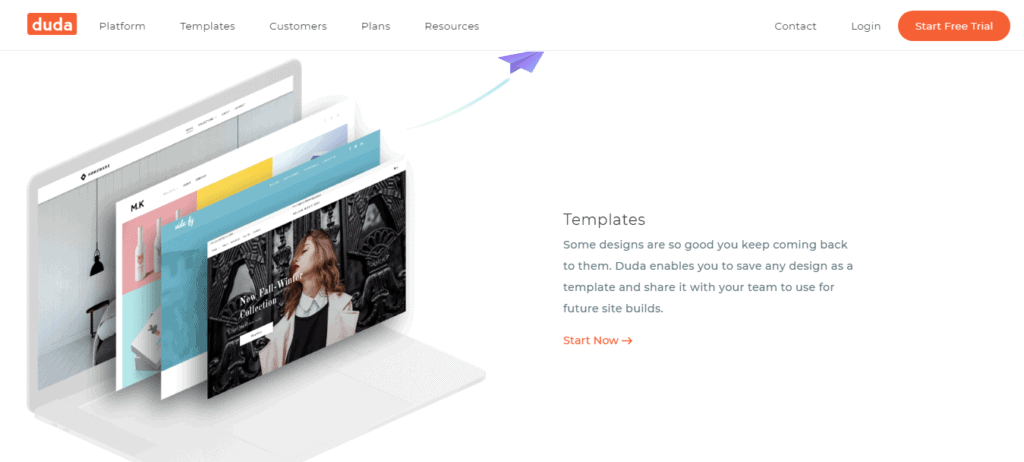 You do have the option on the Business plan to add third-party themes from vendors such as ThemeForest and TemplateMonster.
WordPress themes differ in quality and design, but there's a very detailed customizer app that lets you customize the app. You may also configure CSS on the Premium package, and above.
WordPress has a much greater selection of models to choose from than Duda, and the customizer is extremely simple to use, enabling you to suit your branding style in anything from colors to fonts.
That said, Duda gives you some spectacular-looking templates and allows you to create freedom with its collection of blank templates, so it could still be a good choice for you.
5. Design
The overall design and layout of a website building platform are also something that many people consider important.
Everyone prefers a clean and less cluttered user interface that allows users to stay well-organized with their work. The better the design, the better the user experience!
Duda
The website builder currently offers a vast collection of over 100 quality templates for users to experiment with, all of which are free and responsive by default.
The collection of the system is regularly updated with new high-end designs. They are sorted out by industry to simplify and speed up users' choices.
The search filter option is available here as well for quick and easy template access. Duda's themes are versatile, modern, and quite impressive.
It's possible to completely modify their look via code injection enabled in the Developer Mode.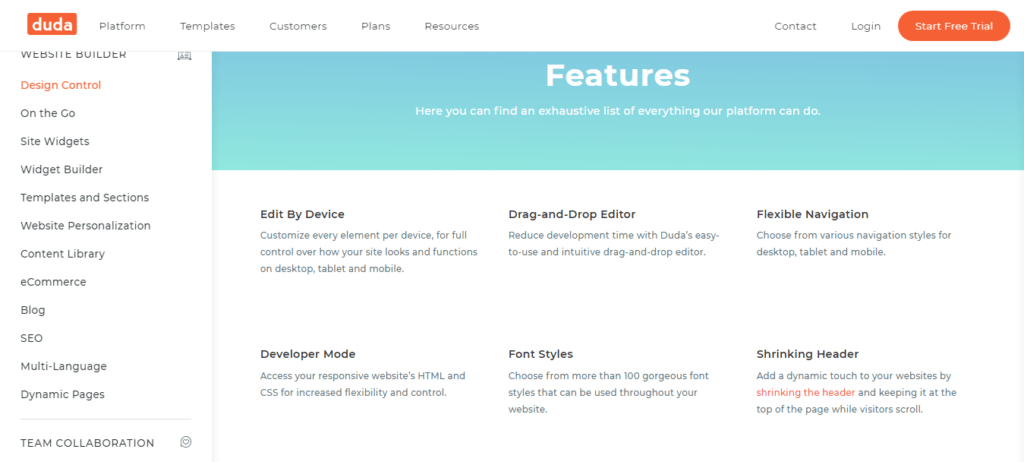 In case you are not able to find the template that absolutely comes up to your needs, Duda offers an opportunity to select a blank theme and customize it from scratch.
As soon as you are done with the template choice, you'll be able to preview your theme to make sure you've made the right choice.
The preview mode lets you see the way your project will display on mobile and desktop devices.
Don't worry, if you feel that the template you've picked does not cover your web design needs – Duda lets you switch the designs during the web development process, no matter what stage you are on.
WordPress
WordPress is particularly famous for its having one of the most extensive and richest collections of templates in the modern web development niche.
This is because the CMS does not offer built-in themes by default, but it also allows the integration of external designs. There are hundreds, if not even thousands of them, on the web.
These themes are specially developed for WordPress by other web designers and you can find almost any theme to fit your needs and project focus.
You can choose from free and paid WordPress templates. The latter is more secure as free themes sometimes pose threat to your project, coming with malware and malicious codes.
What's more, some templates have become incompatible with the system after the introduction of the Gutenberg Editor.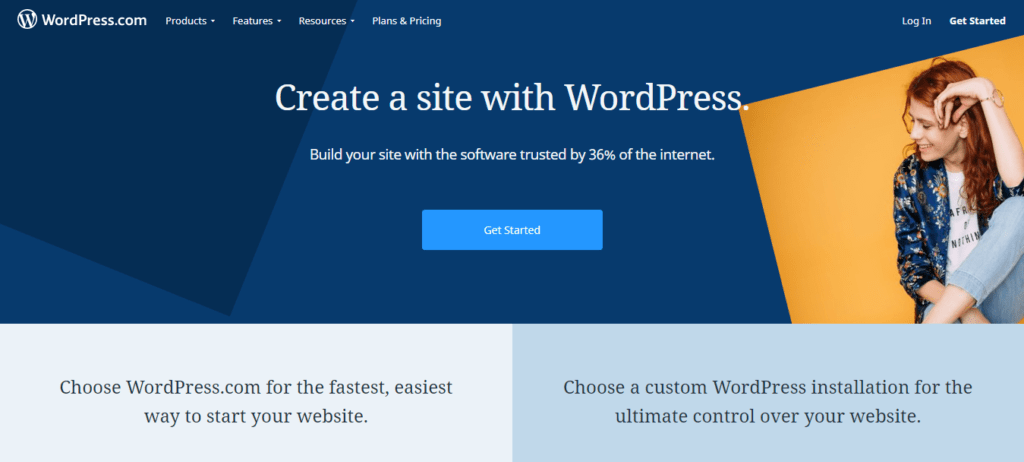 The best way to avoid that is either to check all the template parameters and its optimization for the latest WordPress version in advance or use the universal Twenty Nineteen theme WordPress has released along with the Gutenberg Editor.
The latter comes with multiple design customization settings you can use to give the selected theme the required look and functionality.
WordPress is the undeniable leader in terms of template choice. While Duda's design collection involves around a hundred themes, WordPress can boast thousands of templates.
The CMS also goes first, when it comes to design customization – its advanced Gutenberg Editor lets you give the project a refined look. Both systems, however, grant code access, which notably extends template customizability.
6. Customer Support
If your customers cannot reach you when they run into a problem or don't have any resources that will aid them in tackling the problem, then that would be a huge concern for your brand!
But don't worry! Both Duda and WordPress claim to have a super-responsive customer support team in place to cater to all your queries throughout the day.
Furthermore, both platforms also provide an information-rich knowledge base that consists of blogs, guides, and tutorials to help you out with generic problems.
Duda
Despite the simplicity of the system, it delivers quality customer support assistance.
Along with the step-by-step tutorials available in the knowledge base, the website builder allows using the ticketing service and watching webinars that provide detailed videos and guides on how to use the system.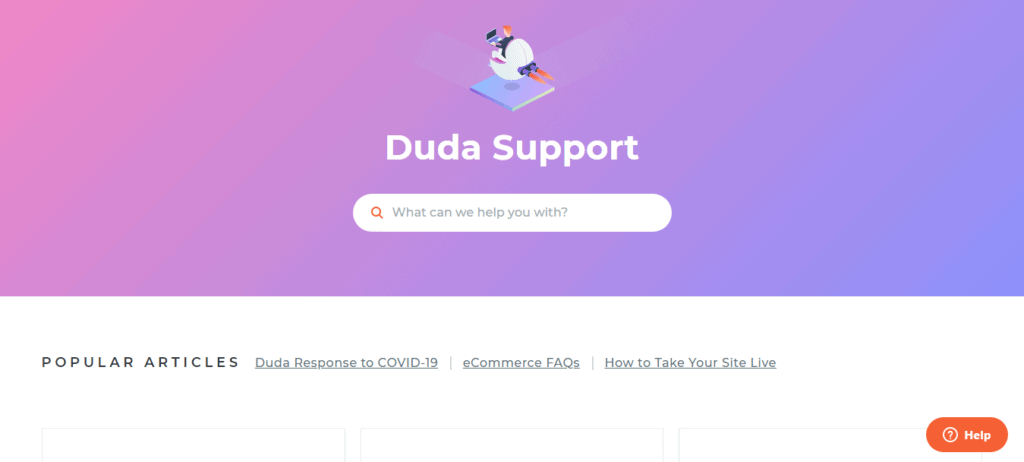 Duda's Help Center covers the most widespread topics most users are interested in. This is where you will find lots of questions and answers to them in separate sections and categories.
A convenient search filter option helps cut down the search time, which is a handy option as well. Duda also has a blog with helpful articles and a live chat that lets users get immediate answers to their urgent questions.
There is no official tech support in WordPress, but the system boasts an amazingly extensive worldwide community of users.
There are thousands of tutorials, manuals, video and text resources, guides as well as blogs, forums, and channels, where you can find exhaustive information about the platform.
Despite such a variety of WordPress sources, this is not sufficient sometimes, especially for first-timers. As a result, they still face the need to explore the CMS independently to find out its nuances and special characteristics.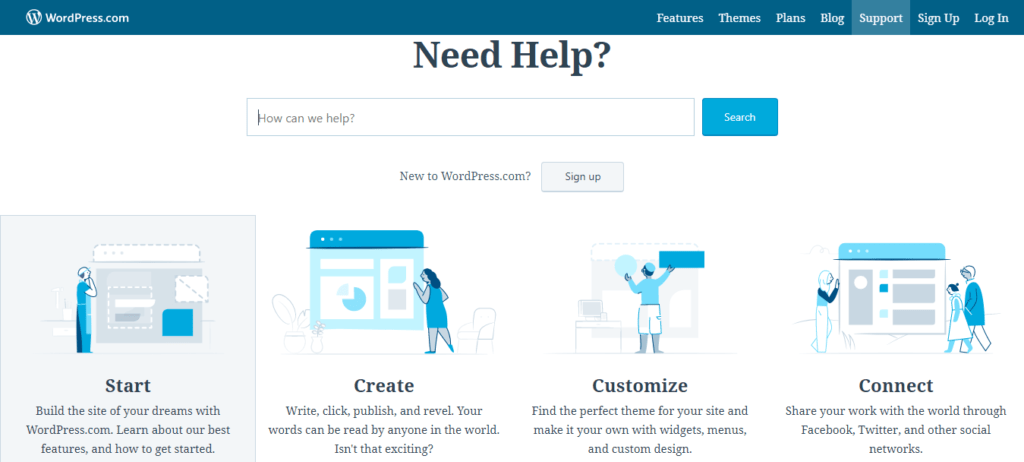 This is not an easy task, so, if you feel unsure about creating projects with the CMS, you may consider choosing a website builder instead.
Duda has a more easy-to-access and informative customer support service. Along with the Help Center and extensive Knowledge Base, the system also offers live support, which is a truly undeniable advantage.
WordPress, in its turn, abounds in online tutorials, but they don't have official customer support.
7. Pricing Policy
The comparison of the pricing plans offered by both platforms is something users must take note of. Duda provides fixed pricing, while the cost of using WordPress will differ depending on your needs!
Duda
The Duda website builder has a free trial period that extends for 30 days. Afterward, users will have to upgrade to one of the paid subscriptions. There are 3 of them here, namely
Basic
Price: $14 per month
Includes 1 website
Free SSL Certification
Email support
Team
Price: $22 per month
Includes all features of the Basic Plan
Live support
Opportunity to collaborate with 4 members
Agency
Price: $74 per month
Includes all features of the Team Plan
8 websites
Website export option
Custom branding
Additionally, the website builder offers standalone eCommerce add-ons meant for users willing to launch online stores. The prices of the add-ons are listed below:
10 product store – Free
100 product store – $7.25 per month
2500 product store – $19.25 per month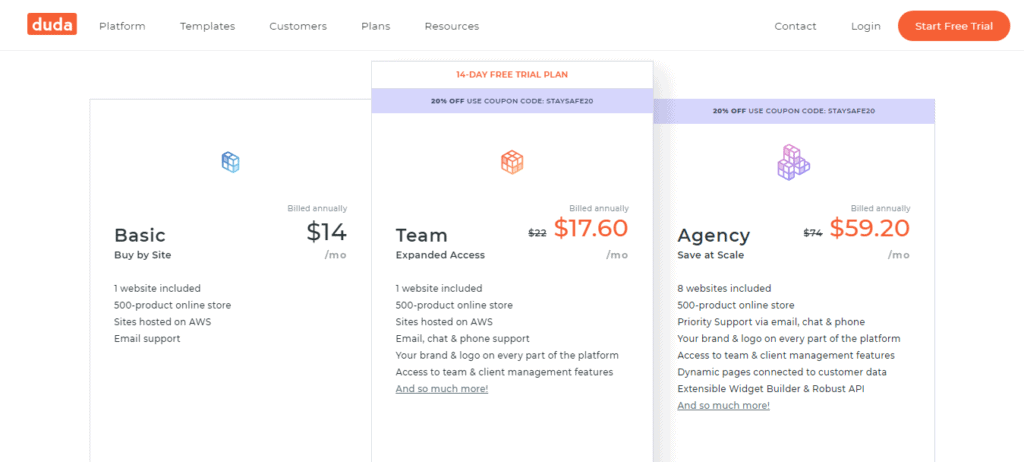 And that's not it. Duda also has a superior White Label Plan for entrepreneurs and web agencies, who intend to use the system features under their own branding. The solution encompasses several offers, such as Tiered Discount Pricing, Dedicated Account Manager, Unlimited API Access & Advanced Support, etc. The cost of each option is discussed independently with the system managers.
The CMS is free! It also concerns their download, installation, and standard feature set as enticing as it may sound. You'll need to invest in hosting, domain name, and paid extensions though.
Therefore, a standard.com domain name would cost you around $10-$15 a year with an additional $5-$15 prolongation period depending on the program you are working with.
WordPress also means the need to purchase the plugins and templates required to improve the performance of your website. Such extensions cost difference in terms of their parameters.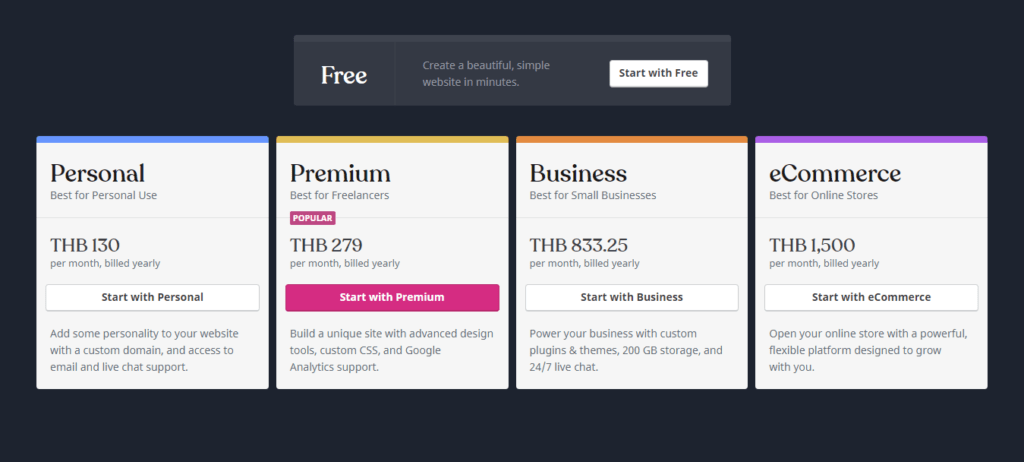 Speaking of a trustworthy hosting provider's option, it depends on the service that you are going to go for. There are plenty of hosts out there, but WordPress recommends using Bluehost itself.
This is one of the most reliable hosting companies, offering several advantages, a comprehensive feature set, and competitive pricing.
The cheapest Bluehost Package, including the ability to start one project with unlimited traffic, 50 GB of disk space, and a free SSL Certificate, would cost just $3.95/mo. That really is more than a generous deal.
We could not point to a winner in this round simply because when comparing the pricing aspects of both, it is clearly evident that Duda provides fixed pricing, while the cost of using WordPress will differ depending on your needs.
So, it again depends on your personal/professional needs!
Quick Links:
Duda Vs WordPress: Customer Reviews (Who Wins?)
Duda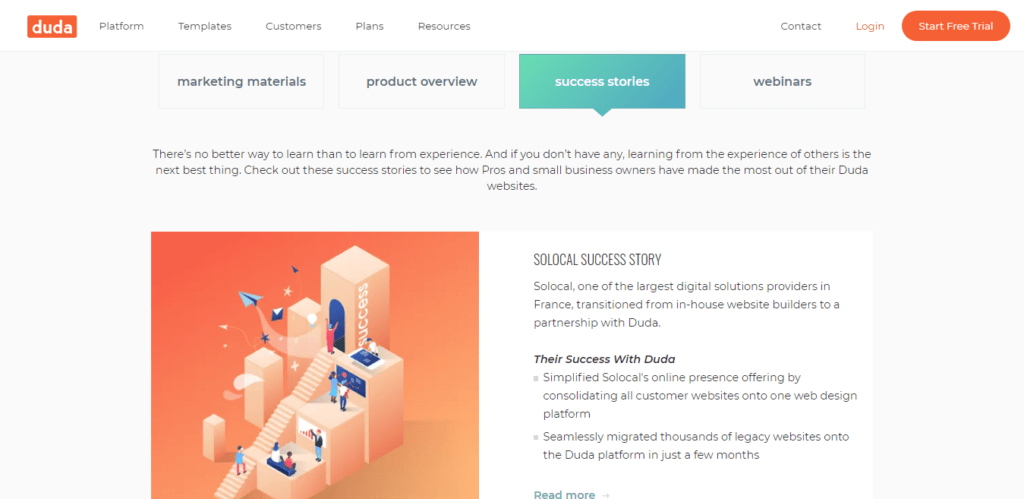 WordPress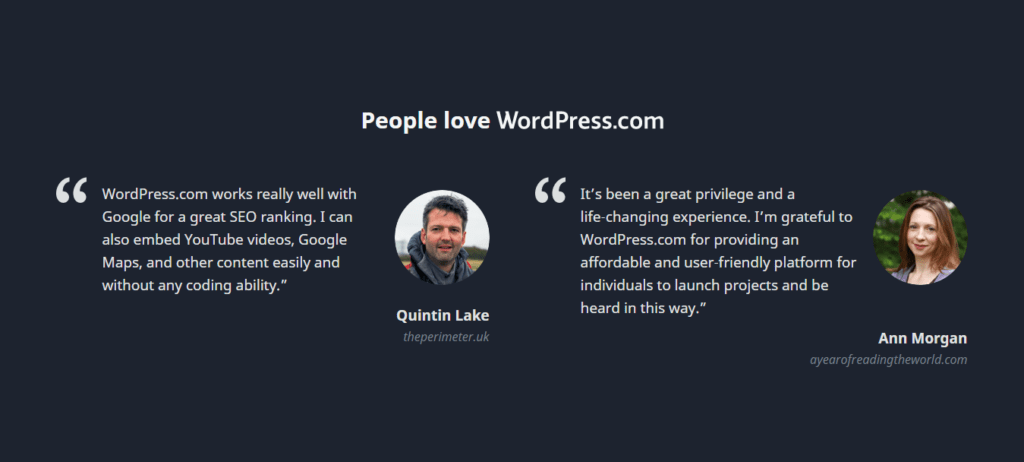 Verdict: Duda vs WordPress 2023
Both the platforms –WordPress and Duda are equally good overall. So, the overall competition is an obvious tie! It really does depend on what your priorities are and what you are looking for in a website builder.
If ease of use is your thing and you want a smooth and hassle-free editing experience, then Duda's drag-drop editor is the ideal toy for you.
If you want a friendlier design and a wider collection of templates that are flexible and responsive, then WordPress is home for you!
So, just figure out what you need, and choose accordingly between Duda and WordPress which platforms can serve you well!