When you complain about bad network speed, you swear on your network operator, switch off and then on your modem, or just think of throwing the current one in the dustbin. But do you ever think that one of the big reasons can be the network switch?
Yes, a network switch or ethernet switch can make your internet speed increase remarkably.
So, in this article, we'll be talking about the best ethernet switches of 2023 you can go for.
But before we jump to the list of top best Ethernet in 2023 I would like to highlight the point of Ethernet what this Ethernet actually is, why this is so necessary for our today's life and why we people are very fond of ETHERNET.
So here we have listed a few best, top, outstanding Ethernets with features and pros and cons.
What is Ethernet?
Ethernet is a local area network (LAN). It is a type of network cabling and the most widely installed local area network (LAN) technology.
Signaling specifications were developed by Xerox in late 1970. It was introduced in 1980 for commercial purposes and was first standardized in 1983 and since then, it has been refined to support longer link distances higher bit rates.
With Ethernet, file sharing and printer sharing among machines became possible because Computer networking has become an integral part of business today. Individuals, professionals, and academics have also learned to rely on computer networks.
Networking has thus become increasingly extensive because it is fast, efficient, reliable, and effective. This is how all this information is shared, stored, categorized, and accessed remains a mystery to the average computer user.
Ethernet became most popular in the recent era because it is now one of the most common types of broadband internet connection.
Now you have an idea what is Ethernet and why this is very important for our life so after the definition here we have some of the best Ethernet networks for you which is very good and top-rated.
List of Best Ethernet Switches 2023– Best Gigabit Switches
1. D-Link Systems 52-Port DGS-1210-52
The first network switch we are looking for is known as the DGS by D-Link Systems.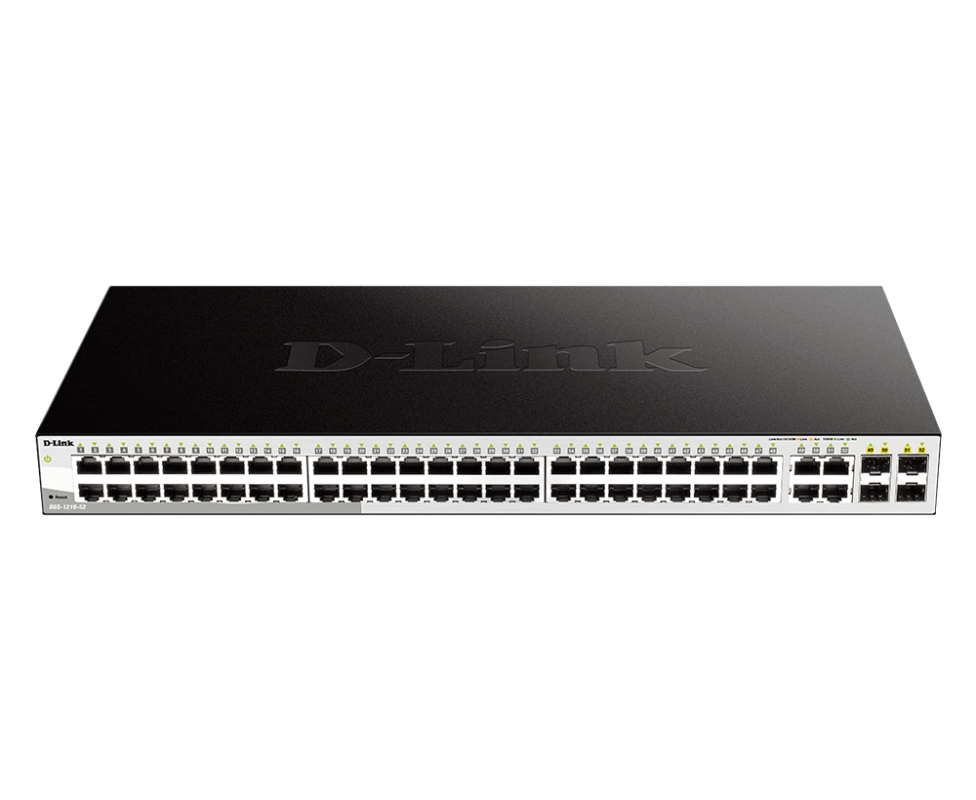 D-Link comes with 52 Ethernet ports, from the total number 48 ports are the 10/100/1000BASE-T Ports and the remaining 4 are the Gigabit SFP ports. Each switch supports 2 or 4 Gigabit SFP ports for optical connections using Singlemode or Multimode as well for SFP transceivers.
The D-Link Smart Switch series is designed for effortless management. D-Link offers a limited lifetime warranty on this product. DGS-1210 series switches give a further commitment to quality product and a long term relationship with customers.
Features:
D-Link Systems has Forty-eight (48) 10/100/1000BASE-T.
It has PoE/PoE+ PortsFour (4) Gigabit SFP and also PoE+ (802.3af and 802.3at) with PoE power budget supports 802.1Q VLAN.
It provides Auto Voice VLAN and Auto Surveillance VLAN Advanced features which include QoS, snooping security features include Access Control List (ACL), 802.1X / RADIUS, ARP Spoofing Prevention.
D-Link Safeguard Engine can easily manage using intuitive GUI and D-Link Network Assistant Utility;
D-View is 7, Compact CLI. It also has a Limited Lifetime Warranty.
Advantages:
It is supported by port-based and tagged VLANs,
Table for labeling port descriptions has four SFP ports for expansion (fiber),
Supports port mirroring is for diagnostics/monitoring,
It gives you power saving options, but that's based on cable length/time of day,
Basic SNMP support and LACP port are nice features at this price,
Very easy management like Web GUI, Smart Console Utility, supporting D-view 6.0 and compact CLI,
A user-friendly product such as Auto Surveillance VLAN and Auto Voice VLAN simplifies the work and installation of IP surveillance devices and VoIP phones.
Limitations:
Not all features exposed via SNMP,
No VLAN over VLAN options,
No redundant power supply,
The web interface is slow.
2. TP-LINK TL-SG1048
TP-LINK is a reliable any easy to use switch network without the entanglement of management.

The TL-SG1048 provides you 48 10/100/1000Mbps ports. The 48-Port Gigabit Switch is designed to meet the needs of the most demanding workgroup and working area.
The TL-SG1048 offers amazing performance with ease of use, proving to be a value for money product. And this is for any cost-conscious network user who wants the best possible solution at the best possible price.
This also a rack mount server mainly because of the 48 ports, the network switch comes in three different models such as easy smart, desktop unmanaged, and rack mount managed. The rackmount also comes with full support for IEEE flow which controls for full-duplex mode and backpressure for half-duplex mode. It also provides Auto MDI/MDIX.
These modes are there to eliminate the need for crossover cables; the network switch also supports MAC address auto-learning as well as auto-aging.
Features:
In this product, no configuring is required again and again.
It has the auto features of this gigabit switch which makes the installation plug hassle-free.
Auto MDI/MDI-X crossover on all ports easily eliminates the need for tangled cables or uplink ports.
Each port has a feature of Auto-negotiation, which senses the link speed of a network device and adjusts for compatibility accordingly.
Size is very compact which makes it ideal for desktops with less space, convenient and safe.
Advantages:
A very innovative energy technology, which saves power up to 100%
Data filtering rate easily eliminates all error packets and give you the best result.
Supports IEEE 802.3x flow control for Full Duplex mode,
Switching capacity is Auto MDI/MDIX and eliminates the need for crossover cables,
The MAC addresses auto-learning and auto-aging,
It supports the port N-Way Auto-Negotiation,
The appropriate size is designed for desktops,
Rack-mountable Plug and Play design simplify installation in work.
3. Cisco SG200-26
This is also in the top 3rd category of Ethernet network.

Cisco SG200-26 has 24x Gigabit Ethernet Ports, and Supports Up to 12 PoE Ports; it has 2 x Combo mini-GBIC Ethernet Ports, also QoS Support. IPv4 / IPv6 Support, Auto Voice VLAN is compatible, advanced in network management, and the most important is the product is Energy-Efficient.
Features:
Cisco SG200-26 has Port 10/100/1000; Gigabit PoE Smart Switches. Cisco lets you achieve business high-class network security and performance at a very affordable price.
It provides a perfect solution when you need a reliable solution to share your network resources and connect with other computers, printers, and servers.
The Cisco SG200-26P switch securely and quickly connect with employees in the working area.
Advantages:
High in Speed Desktop Connectivity,
High performance and reliable connectivity,
Secure in Wireless Connectivity,
Easy to configure and manage,
Very high network security
Energy is efficient in work
It helps conserve energy by optimizing power use.
When a link is not working, its embedded intelligence system adjusts power according to the length of the cable.
Limitations:
Sometimes show the problem in connection
Ports are many and that makes it confusing sometimes.
4. TRENDnet TEG-424WS
We are now going to present you with another best network known as TEG-424WS.
TEG-424WS provides a 24-Port 10/100 Mbps web smart switch with the best 4 Gigabit Ports like other networks and 2 Mini-GBIC Slots (model TEG-424WS) which delivers a 12.8 Gbps switching capacity with an efficiently managed layer to reduce the cost.
It supports SNMP v1, 802.1X, STP, 802.1Q VLAN, QoS, and IGMP snooping. It provides a scalable and secure backbone switch solution for SMB networks.
The reason behind listing this product here is because this particular network switch is available easily and very easy in configurations, the best thing about this Ethernet network switch is it's all the amazing features are available on all the models.
Features:
It has 24 x 10/100 Mbps Auto-MDIX Fast Ethernet ports,
With 4 x 10/100/1000 Mbps auto-MDIX Gigabit ports,
Also has 2 x 1000BaseMini-GBIC slots (shared with Gigabit ports 25-26)
With 12.8 Gbps switching good capacity.
Easy store-and-forward switching architecture with no blocking wire-speed performance.
Full Duplex Flow Control and Back Pressure, Static Port Trunk available.
Advantages:
IEEE 802.1D Spanning Tree Protocol,
IEEE 802.1X Authentication and SNMP v1 support very well,
Supports port-based on IEEE 802.1Q VLAN Tag and Asymmetric VLAN also,
It supports 128 Kbytes data buffering RAM,
Easy in configuration via Web browser too,
Duplex mode and adjustable port speed settings available,
Limitations:
TRENDnet TEG-424WS has a very limited lifetime warranty.
But if you use it appropriately then it will be with you long-lasting, the TEG-424WS is a great network switch that should be more than enough for all your networking you need.
5. TP-LINK TL-SG1024
TP-LINK TL-SG1024 product is on our list of top 5 best internet networks.

TP-Link gives you the full and half-duplex transfer modes for different speeds. This rack-mount switch provides a very easy way to make the transition to Gigabit Ethernet like other networks do.
All the 24 ports are available to give auto support MDI/MDIX; the user doesn't have to worry about the cable type because cables simply plug and play.
Also, it provides an innovative energy-efficient technology, which saves up to 40% of the power consumption, which makes it eco-friendly with workers or operators for their business network.
You now have the choice to go green in this era. When upgrading it into a gigabit network this new product TL-SG1024 comes with more features like the latest innovative energy-efficient technologies that can easily greatly expand your network using capacity with much minimum power.
It easily automatically adjusts power consumption according to the usage status and cable length as well.
Features:
Very Innovative energy-efficient technology which saves power consumption
It Supports IEEE 802.3x with flow control for Full Duplex mode and backpressure for Half Duplex mode also.
It has also Non-blocking switching architecture which forwards and filters packets at full wire-speed for maximum throughput and outputs
It has 48Gbps Switching Capacity which is different from others
Advantages:
It has Auto-MDI/MDIX which eliminates the need for crossover cables.
It completely supports MAC address auto-learning and auto-aging process
It Supports the port N-Way Auto-Negotiation, auto-Store, and Forward.
It has a Compact size design for desktops or any other small place.
Plug and Play design are very simple in installation.
Limitation:
Very less warranty period
The TL-SG-1024 is a very capable network switch that can take care of all the networking needs and speed.
6. NETGEAR JGS516 ProSafe 16-Port
Netgear is now the next product which considers the very best in work. It comes only with 16 ports unlike others and according to Netgear, these 16 ports are auto-sensing Gigabit ports.

Pretty much like other network switches in our list, this product also comes in different use and quality such as unmanaged, web-managed plus, and web-managed click s well. Let's have a look at the design, features, and advantages.
Switch series helps in cost-cutting, hence, cost-effective, expanding their network to Gigabit speeds and higher port counts. This switch comes with a wide range of models like desktop and rackmount form factors and 5 to 24 port configurations.
The GS108P supports PoE for low-cost. These switches are energy efficient and rigorously tested making them trustworthy.
802.1p traffic prioritization and jumbo frame support for seamless integration with more sophisticated n compatible networks. It has ProSUPPORT 24×7 Advanced Technical Support via phone for 90 days and ProSUPPORT coverage can be extended by purchasing.
Features:
This product has switched bandwidth,
The forward rate is (1000 Mbps port): 1,480,000 packets per Sec approx,
Forward rate for (100 Mbps port): 148,000 packets per Sec.
Meantime between failures 87,600 hours positively,
Very high capacity,
This product is Flexible,
Convenient in use because it comes with only 16 ports,
Power Warranty is 2 years.
Advantages:
It provides 1000 Mbps speeds and a switching capacity up to 48 Gbps to meet the performance needs.
For even the most bandwidth-hungry applications also, The JGS500 series are perfect for new graphics, multimedia work, and other applications that have to move large files across the network quickly and efficiently
This product is affordable that enables your workgroup, department, or small network.
The flexibility of this product is very good, Each port is equipped with automatic speed and Auto Uplink to adjust easily for straight-through or to prevent crossover cables to make the right link.
Easy to set up and easy to use as all other products, these unmanaged switches have port LEDs for effortless network working.
Limitations:
It comes with only 16 ports which give fewer features to operate.
7. TP-LINK 16-Port Gigabit Ethernet Switch
TP-LINK 16-Port Gigabit Ethernet Switch comes in different configurations such as the desktop unmanaged, rackmount unmanaged, and easy smart.
Let's take a look at the TL-SG1016 by TP-Link, on its design, functions, features, disadvantages, and advantages.

TP-Link is back with another best gigabit Ethernet switch, but this time it's not a 48 or a 40 port, this one is basically just a 16 port Ethernet switch, 16 ports which makes easy for you to use and work and that still manages to RAM in a lot of features inside of it.
The TL-SG1016 Gigabit Ethernet Switch provides high-performance at a very low-cost. Very easy-to-use and improve old network to 1000Mbps network. All 16 ports support auto MDI/MDIX, you don't have to worry about the cable type because it is a very simple plug-in to play.
Moreover, with the innovative energy-efficient technology, TL-SG1016 can save power consumption up to 80%, and the packaging material can be recycled which is very good for world health, making it an eco-friendly solution for your business network. All 16 ports can provide a large transfer of files.
Featuring is non-blocking switching architecture; TL-SG1016 forwards and filters at full wire-speed for a maximum good result.
Features:
Innovative energy-efficient technology which saves power consumption,
Supports IEEE 802.3x flow control for Full Duplex mode and backpressure for Half Duplex mode as well,
Non-blocking switching forwards and filters very well at full wire-speed for maximum throughput,
It has 32Gbps Switching Capacity,
Auto-MDI/MDIX prevents crossover cables.
Advantages:
It supports MAC address for auto-learning and auto-aging
Also support the port N-Way Auto-Negotiation, Store, and Forward.
Appropriate size design for desktops,
Plug and Play design is very simple
Auto-negotiation on each port senses
Intelligently adjusts for compatibility and efficient performance.
8. D-Link 10 port DGS-1210-10
D-Link 10 port DGS-1210-10 network switch comes with a very long model number that goes DGS-1210-10.
This product is also similar to others, this is a much more expensive model, it comes with an excessive number of features that will suit all the networking enthusiasts, and the quality assurance provided by D-Link is very good. The switches come with the IEEE 802.3az Energy Efficient Ethernet standard.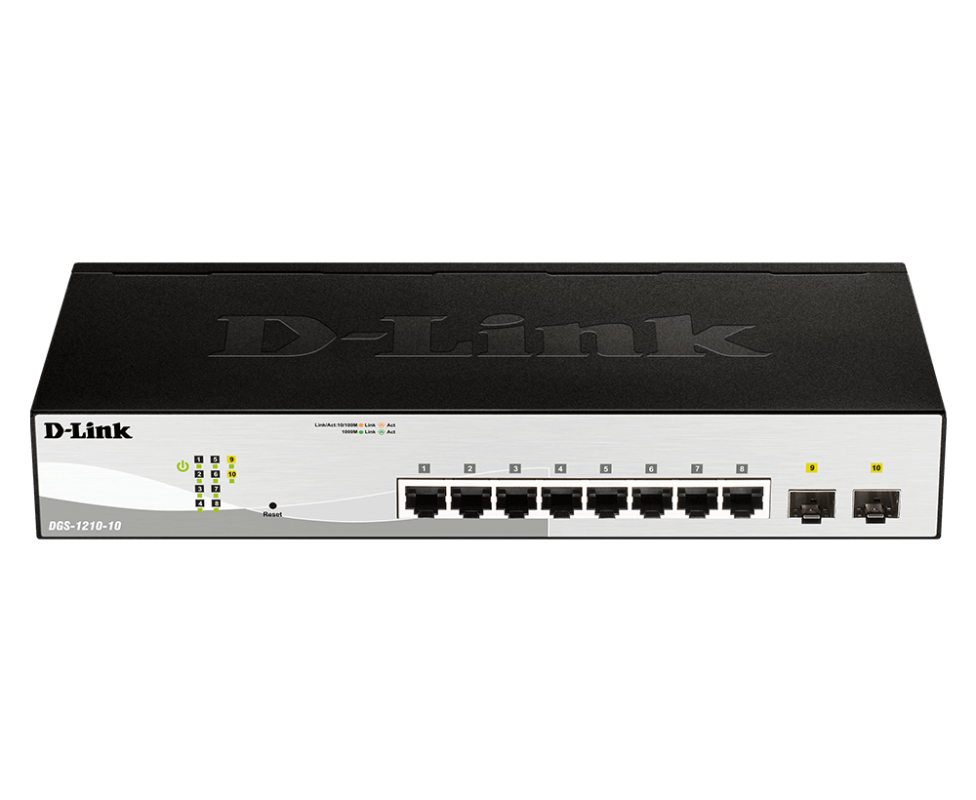 It supports IPv6 management and configuration features which ensures your network remains protected and safe after an upgrade from IPv4 to IPv6.
This product offers multiple management options like these switches allow very quick deployment, infrastructure expansion, and upgrades.
This is a web Smart switch and provides high security of work, the functionality of the network, and manageability of the network for a fraction of the standard cost of ownership.
Features:
The DGS-1210 Series Switches are capable of conserving power without functionality by using D-Link Green 3.0 technology.
The length of the connection cable can be detected by these switches which can reduce the power usage on shorter cable connections.
The D-Link Web Smart Switch series is designed for easy management.
A network management system allows for the central management of critical network characteristics.
Auto Surveillance VLAN and Voice VLAN are available.
These switches include IGMP Snooping, Port Mirroring, Spanning Tree, and Link Aggregation Control.
The IEEE 802.3x to Flow Control function allows servers to directly connect to the switch for fast, reliable data transfer.
2000 Mbps Full Duplex the Gigabit ports which provide high-speed data to servers with minimum data transfer loss.
D-Link offers a Limited Lifetime Warranty on the DGS-1210 Series WebSmart switches
Advantages:
Energy Saving
Easy Management
Extensive Layer 2 Features.
Limitations:
Limited lifetime warranty.
9. TP-LINK TL-SG1008D
TL-SG1008D Increase the speed of your network server and backbone connections, it makes Gigabit to the desktop a reality.

TL-SG1008D adopts a lower power consumption design. Innovative energy-efficient technology of TL-SG1008D saves up to 80% of the power consumption and making it an eco-friendly solution for your home or office network.
The TL-SG1008D network switch will surely take care of all your intermediate networking needs without resistance. It can be said that TP-Link has the best outdone them.
Features:
Featured with 8 10/100/1000Mbps ports,
TL-SG1008D greatly expands your network capacity,
Enabling instant large files transferring.
Advantages:
High power users in the home, office, workgroup, or creative production workplace
Now move large, bandwidth-intensive files faster.
Can transfer graphics, CGI, CAD, or multimedia files across the network instantly.
Quick Links:
FAQs | Best Ethernet Switches
🤙 Are Ethernet switches good?
If you have several devices that you want to connect to the network, Ethernet switches are the perfect solution. Try connecting several devices to a router over a WiFi network, and the entire network performance will suffer. A router with WiFi capabilities can perform some of the same functions of an Ethernet switch.
🤔 Do Ethernet switches affect speed?
Ethernet connection speeds are dependent on the quality of the cabling and the capabilities of the network hardware. Some very old switches are only capable of 10 Mbit/s, switches built from the mid-1990s forward are capable of 100 Mbit/s, and modern switches capable of 1000 Mbit/s (or "gigabit" speeds).
🤷‍♂️ Are Ethernet switches good for gaming?
In short, if you don't have enough ethernet ports to connect all of your devices directly to the router, an ethernet switch is great for gaming.
🙋‍♀️ Do Ethernet splitters slow down connection?
While Ethernet splitters are cheap and appear to offer a good solution, they do result in a slower speed for network traffic. This is likely to affect the performance of your Ethernet-connected devices. Ethernet splitters are also limited to a maximum of two devices per cable.
Over To You: Best Ethernet Switches 2023 (Under $149)
So these are the very best and top-rated Ethernet networks 2023. Every Ethernet network is perfect in the work process and having advanced features.
It depends on your choice which network you want for you according to the price and needs all totally your choice what you need in your busy life.